Hurricane Florence Fun Run Moves Through Brunswick Forest This Weekend
November 1, 2018
Beth Burgee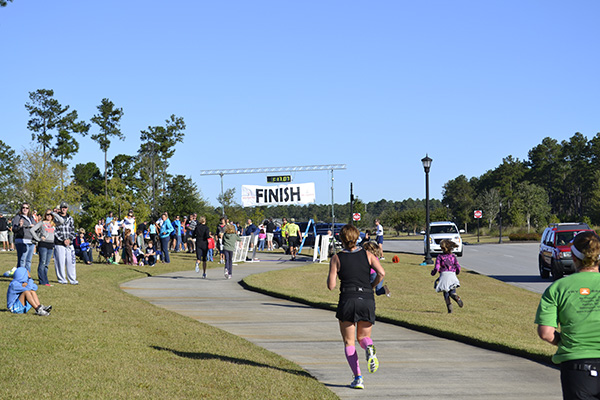 Taking place this weekend, the Hurricane Florence 5K & 1 Mile Fun Run will be hosted by the Leland Lady Runners and The Joyce Irish Pub, located in The Villages at Brunswick Forest. This event includes not only the 5K & 1-mile run, but also Raffles, a Silent Auction, Fortnite Dance Off led by Coastal Dance Academy, Wilmington Strong & Leland Strong shirts for sale by The Logo Shoppe, Coastal 97.3 DJ Bigg B jamming some hits, and much more.
Benefiting those impacted by Hurricane Florence, this event will shed light on the neighborhoods and individual homes that were devastated due to flooding by the storm. Neighborhoods such as Stoney Creek in Brunswick County flooded with 228,000 gallons of sewage making nothing salvageable in these 44 homes, plus 6 homes in the Planters Walk neighborhood nearby. Many homes off of Highway 17 and Highway 87 were impacted when the Sanford Dam breached its barriers causing lots of destruction in the Boiling Spring Lakes area.
While Brunswick Forest fared well during the storm, many of our neighboring areas are still rebuilding and coping with the damage left behind by the Hurricane. This event gives you an opportunity to get involved, get active and help give back to our local community.
The event begins bright and early on Saturday morning, with on-site registration and the silent auction opening at 7:45am at The Joyce. The 5K will start at 8:30am, with the 1 mile fun run beginning immediately after. Following the race, join us for lunch at The Joyce from 11am-4pm. A significant portion of the lunch proceeds will go towards the Fundraiser. Also taking place Saturday morning, Coastal Dance Academy will hold a Fortnite Dance Off beginning at 9:30am. The brand new studio is located across from the Brunswick Forest Welcome Center and is one of our newest additions to The Villages at Brunswick Forest.
Click here for more information on the event.
www.BrunswickForest.com
866-831-8289