Home Resale Feature: 1310 Cape Fear National Drive
January 18, 2021
ISWebmaster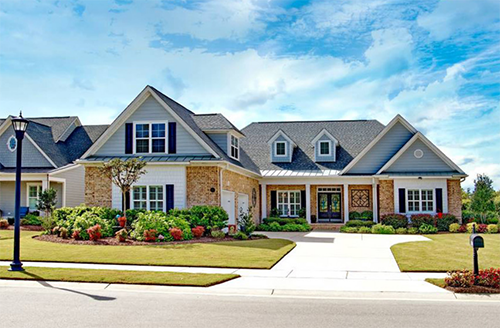 Imagine waking up each day and looking out the window to behold the sun rising over nature's beauty and knowing a five-star championship golf course was literally in your backyard. There is no denying the boundless charm that you will find in the home at 1310 Cape Fear National Drive here at Brunswick Forest.
Cape Fear National is more than just a phenomenal golf course to play, it also refers to the neighborhood here that is woven seamlessly into the areas around it. The homes here are known for having beautiful and luxurious options with views to live for. All these qualities combine to make Cape Fear National one of Brunswick Forest's signature neighborhoods that any aspiring homeowner would love to be a part of.
As you walk inside the home, you will instantly notice how well every bit of space is used. There is a private study with a vaulted ceiling, perfect for anyone looking to work from home or just have an extra space to conduct daily business. The main living area has an open floor plan that opens into a massive gourmet kitchen. You will even find a lovely fireplace that is perfect for cooler evenings in the center of the living room.
The kitchen is spacious and has marble countertops with a white tile backsplash. The stainless-steel appliances are functional and attractive for this space. A mix of white and gray cabinets ties it all together, ensuring ample storage. The master suite has a walk-in spa-styled shower, with two vanities. The backyard offers privacy and a sunroom with sliding glass windows that is perfect for year-round entertaining. You even have the use of an awning-covered patio.
Additional details include:
Total of three bedrooms
Two and a half bathrooms
3,510 square-feet
Overall if you want a well-appointed home in a great location, then 1310 Cape Fear National Drive is the perfect choice. Our team that has in depth knowledge regarding all this home's fine attributes. Contact our office for more information at: 833-497-1001. You will be glad you considered this for your dream home! It is the perfect blend of style, luxury, and space.