Holiday Wines and Great Times: Bridgewater Wines has a Great Selection
December 23, 2020
ISWebmaster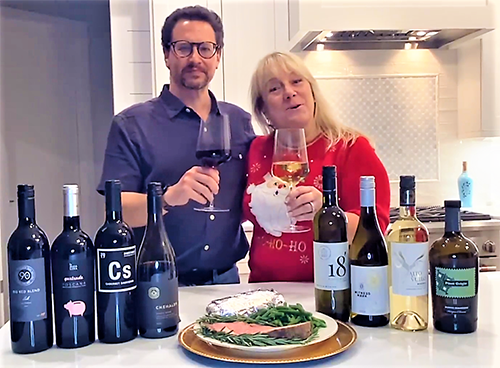 What's Christmas or New Year's Eve without a little something special to wash all that holiday cheer down? Sometimes a good drink just completes a magical feeling this time of year. And there is no better place in Leland, North Carolina to stock up your cellars than Bridgewater Wines, located just down the street from Brunswick Forest.
Be it a bottle of bubbly or a glass of Chianti, you are certainly able to find something to wet your whistle at Bridgewater Wines. Doug and Susan Zucker pride themselves on having a wide variety of options for you to choose from in an enjoyable environment. If you have never had the opportunity to stop by, we would recommend you do so! Bridgewater Wines is spacious, well organized in terms of wine selections, and offers a great variety of pairings for wine like cheese. There is even a bar area where you can sample some tasty cheeseboards and delicious flights of wine. It is perfect for anyone who wants to spend an hour or two finding a bottle of perfect liquid happiness.
Doug spent several years traveling the world, meeting winemakers on six continents in search of the perfect wines. He now brings extensive knowledge to the people of the greater Wilmington area. Susan brings her culinary expertise to the business. She is very talented at creating perfect global food pairings and planning events. Susan and Doug together make the perfect pairing.
"Our motto is: explore the world one wine at a time," says Susan. Wine can be enjoyed at different times of the year. Just like with beer, there are different types of wines that work better during the holidays. Well, do not worry, because Susan and Doug already have the perfect set up for you. Here are a few of their personal favorites that they feel pair well with the holidays.
Substance Cs Cabernet Sauvignon:
One of the world's most celebrated red grape wine varieties, Cabernet Sauvignon is the perfect blend of oaky smoothness. A good choice if you want something easy drinking and not too potent. This variety hails from Washington State's Columbia Valley and is less dry than other red wines. Softer and fruitier than other wines of this type, it pairs well with beef, wild game, lamb, and poultry (perfect for Christmas)!
Vibrant and graceful to the holiday palette, you are going to love its tropical fruits and aromas. With hints of toasted oak, pear, and apple, this wine pairs well with roasted chicken or different types of pasta dishes. It is light and bright, just like the holiday season itself. And who could not use a little liquid cheer for the evening this year? Be sure to pick up a bottle of this if you are a white wine lover.
90+ Cellars Big Red Blend:
Wines from California are some of the best in the world, and this right here is a stunning example of a red blend from Lodi, California. Aromas of blackberry and plum adorn this lovely wine. There are also trace notes of cedar and smooth vanilla. Full-bodied for all the holidays have to offer, warm yourself with a glass of this if you are a fan of big fruit and robust California blends.
This little sparkling wine gem is one of Susan and Doug's favorites. It is great for celebrating with and at only $12.99, it is a great value sparkling because it drinks like a more expensive prosecco despite its value. Perfect for adding a special bubbly vibe to your New Year's Eve!
Whatever you might be looking for you can count on Bridgewater Wines to have a variety of styles to make your holidays an enjoyable one! Be sure to stop by Doug and Susan will be more than happy to help you find what you are looking for. Cheers!