Holiday Strudel Recipe: From Chef Scott
December 22, 2018
ISWebmaster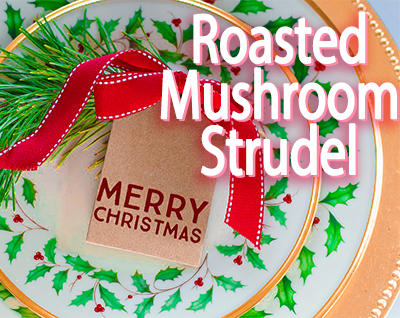 Nothing says it's the holiday season quite like serving delectable treats for you, your family, and guests to enjoy!  A meal can either make or break the holiday atmosphere.  Luckily for you, Chef Scott of The Forest Restaurant at Cape Fear National here at Brunswick Forest, has something that will truly tantalize the palate of any guest.  And the best part of this?  It's simple and easy to prepare right in your own home!
This recipe is for a lovely Roasted Mushroom Strudel. The ingredients you will need are as follows:
1 x pack of filo dough
3 x assorted wild mushrooms. This recipe is versatile, as any mushrooms will work
1 x melted butter
4 oz parmesan cheese
4 oz of bread crumbs
1 x bunch of parsley chopped
Instructions
Cut the mushrooms you have, chop them at any size slice and proceed to put into a large bowl.
Add 2 oz of olive oil and a pinch of salt and pepper to the bowl and spread out on a large baking sheet
Proceed to roast in an oven at 425 degrees for 15-20 minutes
Take the mushrooms out of the oven, pour them back into the bowl, and then add about 2 oz each of parmesan cheese, chopped parsley, and bread crumbs to the mix
Stir the mixture in the bowl until all the excess water has been absorbed, and then place in a cooler to let cool.
Once the mushrooms have cooled, unwrap file dough and lay one sheet on the table while laying a wet towel on the rest of the dough to prevent drying.
Use a pastry brush and spread melted butter all over the filo dough on the sheet. Sprinkle with cheese, parsley, and bread crumbs. Repeat this process until you have about 10 layers of dough with butter, cheese, parsley, and bread crumbs between each layer.
Proceed to turn the layered dough horizontal so that it is facing you, and take the cooled mushrooms and place them in a line across the edge of the dough
Take the edges of the dough and fold them over about an inch on each side, then roll the strudel like a jelly roll.
Place on a parchment line baking sheet and proceed to further brush all over with butter and cut a few slices on a bias angle just through the dough.
Bake the strudel in a pre-heated 400-degree oven for about 20 minutes or until appearance is golden brown and all layers of the dough are cooked.
Let cool for 10 minutes and slice the completed strudel on a slight bias the way the existing cuts are.
Because this recipe is so versatile, you can use it in a variety of ways, such as substituting roast veggies.  The same process can also be used for fruit mixtures as well as canned pie fillings, replacing the toppings with sugar, cinnamon, and toasted nuts for a truly marvelous treat.
From the Brunswick Forest kitchen to yours, happy holidays and bon appetite!