Holiday Cooking Tips from Chef Scott
December 13, 2018
ISWebmaster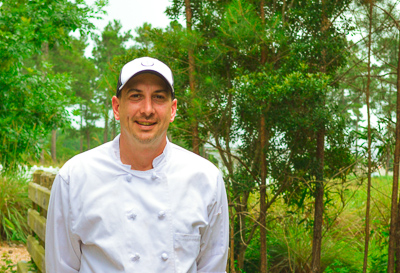 Brunswick Forest knows that community is very important, and that preparing the right holiday meal for family and friends helps to bring everyone together.  But that doesn't mean that meal prep can't be a battle in itself!  Brunswick Forest's very own Chef Scott, head chef at The Forest at Cape Fear National, divulges some valuable time saving tips in the kitchen this season.  Helping you to spend less time worrying and more time entertaining the people that matter.
When cooking for large groups, timing and space are both important.  The first tip is that no matter what you are making, get all your ingredients gathered and in their place.  For example, when measuring all recipe ingredients, use small portion cups like deli containers.  This way when the meal preparation begins, there is no delay in looking for what is needed.  If storing ingredients is a headache, placing them in zip lock bags can help.  Small containers that can be placed inside a large zip lock bag can ensure everything is in the right place at the right time.  Don't forget to label the ingredients as well, as this is also an easy time saver!
Know the amount of space needed for each dish that is prepared to avoid stove clutter.  If there's concern with keeping the food that's already been made, Chef Scott has provided tips for that as well! When it comes to storing your freshly created dishes, beverage coolers can work in a pinch!  They can hold hot food and keep it that way without over cooking things or drying it out, and a sealed top will keep it all hot for at least 4 hours.  Knowing how to make use of slow cookers and warming plates can help keep food at the ready nearby after it's done, freeing up valuable stove top real estate when preparing multiple courses in a row.  Chef Scott has also provided a great tip that not everyone may know about for storing food during the holiday kitchen rush. The drawer under your oven, that many utilize as storage, is also ultimately designed to be a warm holding space! This works great for pies, rolls, etc.  This is vital for saving precious time, and this efficiency will ensure that the most time will be spent with loved ones and not tripping over pots and pans.
Chef Scott highlights that most of all, organization is key this holiday cooking season.  Having a plan ahead of time is the crucial first step before starting.  Preparation is everything, not just the recipes but for the entire cooking area. List priorities of preparation, clean as you go, and remember that keeping these tips in mind will save lots of time!  Don't forget! If cooking this season isn't in the plan, always know that Chef Scott can prepare something special with for dinner to go!  Such amenities are all a part of what makes being home for the holidays at Brunswick Forest something special.