Grillin' and Chillin' with Chef Scott!
May 24, 2019
ISWebmaster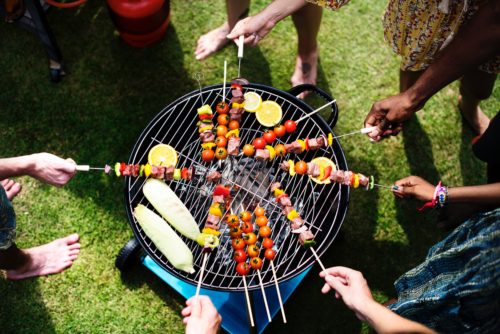 It's Memorial Day Weekend and summertime is well on its way! There's no better way to get yourself in the mood for the summer fun that's to come, like a good ol' backyard grilling session! Stoke the coals and break out that open flame, because Chef Scott Euvrard of Cape Fear National's Forest Restaurant, has the grill knowledge to make you a cook-out hero! Brunswick Forest has the scoop on some of his personal favorite grilling techniques, so make sure to write down these tips for mouthwatering results!
"One of my new favorite grilling methods is called the reverse sear. Basically, what I'm doing is cooking my item low and slow to an ideal internal temperature and finishing it on a high heat open flame." Chef Scott tells us that this procedure works ideally with thicker cuts of meat like a big ribeye, strip steak, thick cut pork chops or some tougher cuts like a short rib or brisket.
-For a 3-4-inch-thick ribeye steak, you will want to set the grill to a nice, low consistent temperature around 225-250 degrees.
-Be sure to rub your steak with your favorite seasoning like roasted garlic, peppercorn or just some Montreal steak seasoning. "Feel free to be creative."
-Begin placing your steak on the grill and proceed to insert a meat thermometer, that way you can check on that oh-so-important internal temperature.
-Cook for about ten minutes with the lid closed. Then, flip and cook until you reach an internal temp of 110-120 degrees for a medium rare steak.
-When internal temp is reached remove steak and cap with foil to rest for about ten minutes. In the meantime, raise the temperature on the grill until it reaches 500 degrees.
-When the grill is good and hot, put the meat back on and char each side for just a couple minutes on each side to get a delicious char crust and a perfect internal temperature.
"Using a gas or wood pellet grill is my preference. It's pretty easy to keep the temp steady as well as to raise it without too much work, and the results are well worth it." One of his other favorite things to do in the summer, is to make use of grilled vegetables because they go great with anything!  Chef Scott prefers to cut his veggies small and make a salsa-like condiment with any kind of grilled protein like chicken breast or pork chops. All that you need to do is:
-Cut some zucchini, yellow squash, red onions, portobello mushrooms into nice circles or flat pieces that will grill evenly.
-Marinate using Italian dressing, Caesar dressing or anything that you prefer.
-Grill on a high heat grill until the veggies begin to show grill marks.
-Remove from fire and proceed to cut into desired sizes or just let them be as is.
Bell peppers are also a Chef Scott favorite! He likes to roast them whole, peel the skins, and chop them into his chosen mix. Putting ears of corn on the grill is also something he loves to do for summer, as it adds a rich, nutty flavor to any dish you're preparing. If you're looking to become the King or Queen of the grill this summer, then Chef Scott's culinary wisdom is sure to serve you well!