Get Active! Upcoming 5k Races in May
May 13, 2019
ISWebmaster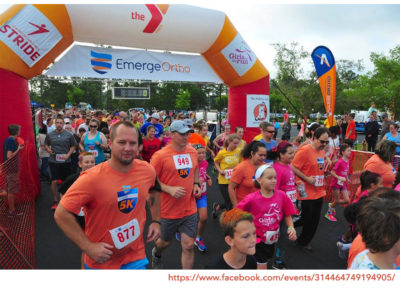 Get out and get active! Life in Southeastern North Carolina has a treasure trove of fabulous activities. With amenities like a staffed fitness center, several pools, tennis and pickleball courts and walking trails, it's not very hard to enjoy a healthful lifestyle. When you're looking to shake up the scenery, Brunswick Forest encourages you to get out and engage in our local area. 5K races are a great way to get active while also helping to give back to your community. Here are a few exciting races you can participate in this month!
Presented proudly by WILMA Magazine is the Wilmington area's only all-female 5K! The WILMA Dash is a race that provides both charity and challenge for those that participate. It doesn't matter if you're a hardened marathon veteran or a first-timer, the WILMA dash is open to all skill levels. Dashers can compete in teams for the chance to win great prizes, like a $500-dollar gift card to Front Street Brewery or tickets to see the Wilmington Sharks! Awards for the 5K include Top 3 Overall Females, top 3 masters females, and top 3 in each age group. Team awards will be for participants with the largest group and the team with the most outrageous outfits. Most importantly, this 5K will donate its proceeds to Going Beyond the Pink; this is a local organization that helps women fighting against breast cancer. After the race is completed, participants are invited to the post run health-fest free of charge. The race will take place on May 16th at the Wilmington Convention Center starting at 6:30pm. For racers looking to register it will cost $50 dollars for participants ages 16 and over, while those under 15 will cost $40 dollars.
Held at the Port City Community Church on May 18th will be the EmergeOrtho 5k race, from 8 to 9am. With four amazing events to sign up for, this isn't a race you would want to miss out on; race events include a standard 5k, assisted wheelchair 5K, non-assisted wheelchair athletes and amputee 5k. Race event signs ups will only be $25 dollars each run, with registration ending on May 16th; be sure to sign up fast! This local 5K will go towards the benefit of young boys and girls in Girls on the Run, as well as STRIDE of Coastal North Carolina. The top three finishers will be awarded medals for their placement in a respective division, including an overall and master's category. The first 600 people to pre-register for the race will also be awarded a commemorative tee-shirt!
Bald Head Island is one of Southeastern North Carolina's greatest natural retreats. It's surrounded by wonderful beaches and set amongst Old Baldy, the oldest standing lighthouse in the state. All in all, it's a great location to run a 5K race! The Turtle Trot will take place on April 20th, with on-site registration starting at 8:30am and race time starting at 9:30am.  Tickets start at $45 dollars per adult and $35 dollars for children 10 and under. If you're traveling from the mainland, the tickets will be $50 dollars per adult and $40 dollars for children 10 and under. Participants can race at their own pace, and prizes will be awarded to the top male and female in each race category; categories include ages 10 and under, 11-19, 20-49 and 50 years or over. Bring your family along for some fun! Proceeds will benefit the Bald Head Island Sea Turtle Protection Program!
Staying active while helping local causes is a great feeling that everyone should experience at least once. Check out this list of upcoming 5K races: https://runningintheusa.com/classic/list/map/upcoming/5k/within-25-miles-of-wilmington-nc