Fitness & Wellness Center's Fall Happenings
October 27, 2018
Beth Burgee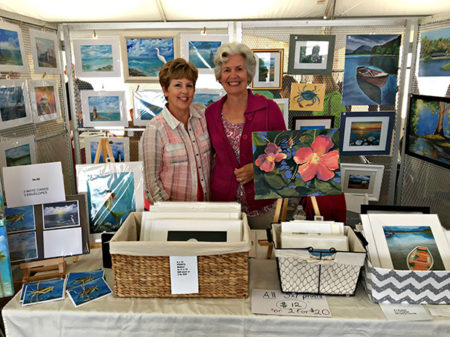 The Fitness & Wellness Center at Brunswick Forest stays busy throughout the year to bring innovative, collaborative and entertaining activities and events to our residents. Community Activities & Fitness Center Director, Nicole Stone partners with her Assistant Manager, Mailyn Carignan, to create a wide variety of activities every month that appeal to everyone in the community.
Hosting workshops, seminars, demos, fitness classes, trips to nearby coastal towns and more, the Fitness & Wellness Center is the community's hub for incorporating yourself into the Brunswick Forest lifestyle.
Taking a look ahead at what we have coming up on the events calendar, we're turning the page to fall activities and events. Over the next month, residents have the option to participate in several community activities, including a 2 Hour Artist workshop at the Community Commons, a Harvest Dinner at the Bellamy Mansion in downtown Wilmington, or a guided Historical Southport Bike Ride Tour.
Fall Craft Fair at The Fitness & Wellness Center
Also among the list of upcoming events is the 2018 Fall Craft Fair hosted in the Leland Room at the Fitness & Wellness Center. Taking place on Saturday, November 10th from 8:30am-12:30pm, the event will feature handmade arts & crafts from fellow Brunswick Forest residents. Some of the resident crafts being showcased at the event include hand crafted greeting cards; sea glass art such as wine bottles, lights, jewelry, etc; homemade salad dressings; hand stitched clothing; decorative pillows and more!
Similar to all of the community events that are organized at the Fitness Center, the Craft Fair is a great opportunity to come out and meet your neighbors, check a few things off your holiday shopping list and help to support fellow Brunswick Forest residents.
Are you a Brunswick Forest resident that would like to get involved in the upcoming Craft Fair?
Contact the front desk at the Fitness & Wellness Center for more information. (910) 342-2215.
Be sure to stay updated with all of the Fitness & Wellness Center happenings by checking their Events Calendar as well as their Resident Sponsored Activities and Group Fitness Class Schedule that are updated monthly.
22258
false
false
true
false
true
true
false
auto
false
ease-in-out
300
false
0
true
false
%curr% of %total%
866-831-8382
www.brunswickforest.com