First Impressions Are Everything: Interview With Kaitlin Snead
August 23, 2021
ISWebmaster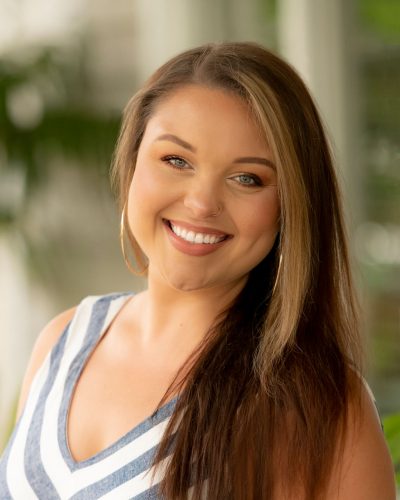 Brunswick Forest isn't just an ideal community to retire or relocate, it's a family made up of a whole host of caring individuals. This includes residents, Brunswick Forest staff and the accommodating businesses in the Villages Town Center. Not to mention, the Brunswick Forest Realty Team! As anyone will tell you, first impressions are everything. That's why our team is thankful to have someone like Kaitlin Snead at the front desk of our Welcome Center as the first point of contact. We sit down with Kaitlin to learn a bit more about who she is and what she loves about Brunswick Forest.
Though not a North Carolinian by birth, Kaitlin has certainly embraced the Carolina way of life as her own! Born and raised in Richmond, Virginia, she decided that after living her whole life in the Old Dominion, it was time for a change. "The simplest answer that I have for what brought me down here is "life". My family and I vacationed in Wilmington for several years before I decided that I needed a change and decided to pack up and move. I am now proud to call the Wilmington/Leland area home," she tells us. Kaitlin moved to Wilmington about six years ago. Originally, she used our locale as a getaway to share with her family.
Part of the reason Kaitlin has taken a liking to this locality is that there is just so much to do. Whether at the beach or Thalian Hall, she loves that there's an adventure around every corner. "What I love the most about this area is that there is always something fun and exciting happening! Whether it is here in Leland or 10 minutes across the bridge in Wilmington, you can find a farmers' market, live music, or live shows happening."
As of next month, Kaitlin will have been with us at Brunswick Forest for six years. Being the front desk manager, she is often the first one to make a connection with inquiries regarding our community. The front desk team under Kaitlin is often the first contact aspiring homeowners have with Brunswick Forest and can be the deciding factor on if someone wants to tour our community further. "Not only are we the first impression of Brunswick Forest, but we help out in all departments in the sales office. Everything begins and ends with the front desk, so it is important to not only provide excellent customer service but also stay organized and focused on our tasks to keep everything running smoothly." Kaitlin and her team are wholly responsible for setting the tone for the Brunswick Forest community and are a vital communication hub for the rest of our agents. They want people to love Brunswick Forest so much that they go back and tell their friends about us!
"I think that the best way for someone to decide if Brunswick Forest is the right fit for them is to visit the area on our Coastal Discovery Package. This gives prospective buyers a chance to tour our community and see all our awesome amenities. They are even provided an "Owner For The Day" pass for each day of their stay, that gives them access to use our amenities as if they lived here!"
If you were to ask Kaitlin what she loves most about working at Brunswick Forest, she would cite the sense of community. For her, Brunswick Forest provides a welcoming environment with lots of clubs and resident activities to join in. More than anything else, Kaitlin loves getting to meet new people, learn where they came from, how someone learned about Brunswick Forest and forming a personal bond with them. If you're interested in taking the first step to see if our community is right for you, contact us at 833-497-1001