FINDING CLUBS AND ACTIVITIES IN BRUNSWICK FOREST
November 17, 2016
Katie McAlick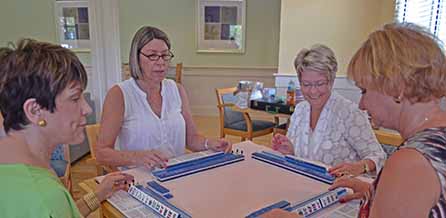 Whether you are new to the Brunswick Forest community or you've lived here for some time, there are always unique activities to get involved in. If you're looking for a break from your daily routine, try joining one of the resident-sponsored clubs! From fishing to book clubs and poker groups, residents are continually finding ways to pique their interests while meeting new friends.
A BIT OF SOMETHING FOR EVERYONE
There are plenty of these activities that take place every week. A number of residents get together during the week for bridge, Bible study, mahjongg, wine night and a variety of resident-sponsored activities where they socialize and meet their new neighbors! There is something for everyone and all are welcome, so go ahead and check out the schedule of clubs and find what interests you!
STAYING INVOLVED YOUR WAY
From book clubs and poker groups to pickleball and golf, there's always plenty to do and new people to meet while living here at Brunswick Forest. Switch it up a bit and explore the clubs and activities going on in the community! This is not only a great way to meet fellow residents of Brunswick Forest, but a fabulous opportunity to discover new talents and interests!
888.371.2434