MEET GERRY AND JANE SUNDERLAND: YOUR NEW NEIGHBORS AND THIS QUARTER'S HOA WINNER
November 10, 2016
Katie McAlick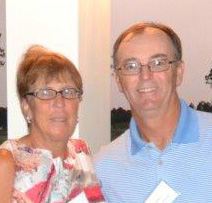 Meet Gerry and Jane Sunderland, this quarter's winner of the HOA dues paid in full for a year! Originally from Massachusetts, Gerry and Jane moved into their JordanBuilt home in Park Landing back in July, excited for the newest chapter of their lives. "And boy, did Brunswick Forest deliver!" exclaimed the Sunderlands. "We are on vacation every day!"
Brunswick Forest offers an assortment of activities which the Sunderlands like to participate in…from pickleball and tennis to the miles of walking, biking and nature trails. Jane has even picked up golf and is loving the new experience! The Sunderlands also love dancing, especially the Carolina Shag, and recommend visiting one of the local shag clubs in Wilmington.
HOW THEY CHOSE BRUNSWICK FOREST
There were a number of factors that really made Gerry and Jane gravitate towards Brunswick Forest. For one, they adored their Brunswick Forest sales agent, who supported them through each step of the moving process. They made the process of moving as smooth as possible, keeping the Sunderlands in the loop and sending them photos of the construction of their new home while the couple was still living in Massachusetts. The Sunderlands also sing high praise to the community's infrastructure and how well the community of Brunswick Forest is designed.
TAKE THE NEXT STEP
Here at Brunswick Forest, we value the sense of community that is ever-present among our residents. Help us grow our friends and family today by referring those you know to Brunswick Forest! Who knows, maybe you will become the next HOA winner! Share Brunswick Forest today!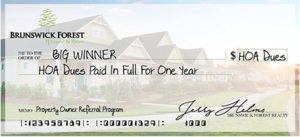 888.371.2434
Save