Feeling Fine with a Glass of Wine: Spring Wines to Enjoy
April 28, 2021
ISWebmaster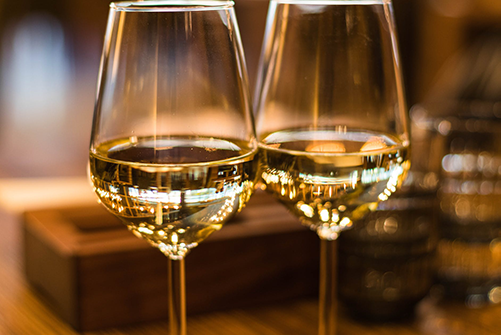 After all the challenges that the previous year has brought, you could use a little something special in your glass! Wine has a special place in North Carolina, playing a big role in social culture and our economy. Once plentiful in tobacco farms, many North Carolina fields are now mostly being converted into vineyards.
When North Carolinians think of grapes and wine, they usually think of Duplin Winery just outside of New Hanover County. Muscadine grapes provide a unique tantalizing treat, creating a sweet wine that has made our area famous with each bottle produced. And while Duplin's white sangria, coastal shag, goin' coastal, and muscadine sweet red wines are also perfect to enjoy outdoors in the Spring, they are not the only choices out there.
Alright, hear us out on this one! This option's name might seem bizarre at first, but it has nothing to do with fermented orange juice. Orange wine refers to a process of fermentation that differs from other wines out there. Normally for light white wines, grapes will have their skins peeled off before fermentation. But here, the grapes are instead fermented with the skin still on. The result is a light wine with an orange-colored hue, like that of a coastal sunset. Perfectly drinkable, easy to pair, and complementary to the season, Orange wine of any type is a great spring choice. Examples include Montinore Estate L'Orange 2018, The Hermit Ram 2019 Skin Fermented Sauvignon Blanc, and Field Recordings 2019 SKINS Orange Wine.
A lovely wine of Austrian origin, Zweigelt is somewhere between a Pinot Noir and Syrah. Either way, you can count on this drink to be a great choice for your springtime moments. Red wine with boundless character, you'll find that Zweigelt goes very well with barbeque dishes. Notes of red cherry, raspberry, and black pepper adorn the palette here, and regardless of how you want to spend your day, a glass of this is guaranteed to help you unwind. Examples of this style of wine include Brunn Blauer Zweigelt 2017, Winzer Krems St. Severin Blauer Zweigelt 2019, and Anton Bauer Zweigelt Feuersbrunn 2017.
Sauvignon Blanc is a classic choice for the spring. Known for being acidic and fresh on the palate, this wine is a perfect fit for lazing outside during the evening hours, at dinner, or any other occasion you feel like celebrating. There are notes of berries, honeydew melon, and grapefruit here, and the wine pours an attractive light color in a glass. This is what you would easily call a "porch sipping" kind of wine. If you're looking for something easy to drink without being too complex and yet still satisfying, a Sauvignon Blanc is the perfect go-to for you. Examples of this well-loved wine include Dog Point Sauvignon Blanc 2020 and Oak Farm Vineyards Sauvignon Blanc 2018.
Pinot Grigio is said to have been born out of Medieval France as an offshoot of Pinot Noir. But if you need any proof that Pinot Grigio is a fan-favorite, look no further than the fact that this wine is still enjoyed all over the world! It got its start in Italy, where the grapes were refined and made into what people love today. Pinot Grigio, like Sauvignon Blanc, is light in taste and color (Though Pinot Grigio pours a more grayish blue.) It has great acidic notes and a crispness that is perfect for springtime and fits that sort of mood. Examples of some 2021 favorites include Foris 2018 Pinot Grigio 2018 and Mack & Schuhle "Art of Earth" 2019
Wilmington, North Carolina has a lot of choices for beer and wine enthusiasts out there. Brunswick Forest residents have one of the best wine shops on this side of the Cape Fear River, with Bridgewater Wines. Owned by husband-and-wife Doug and Susan Zucker, Bridgewater Wines has been a staple in our community circle since they opened. They have a store filled with an incredible variety of wines from across the globe, and they even have a wine bar where you can order cheese, meat platters, and other tantalizing treats to try with your glass of joy. Their motto is, "Explore the World one wine at a time." They come highly recommended!
Next time the sun gets low in the sky, the breeze gets cooler, and you feel like having a Coastal By Nature® moment, try doing so with any of the above-listed wines.