ENJOY A HEALTHY AND ACTIVE LIFESTYLE AT BRUNSWICK FOREST
March 10, 2017
Katie McAlick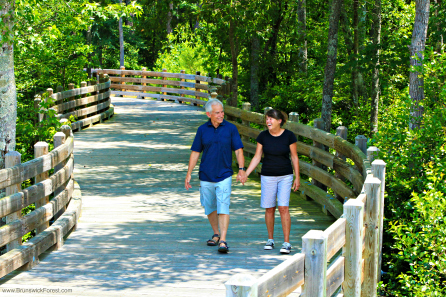 Take in the gorgeous weather of the Coastal South year-round! From outdoor malls to the numerous beach towns, explore the areas in and around Brunswick Forest and the Greater Wilmington area. Check out some of the reasons why Brunswick and New Hanover Counties are hot spots for outdoor fun and healthy living!
With over ten beaches in Brunswick and New Hanover Counties, soaking up Vitamin D while hitting the beach definitely boosts your mood and encourages healthy living! With water sports like jet skiing, surfing and paddle boarding, jump right into beach activities that will keep you moving year-round!
Outdoor malls are the perfect way to get in a workout while you shop! Mayfaire Town Center in Wilmington, offers premium shops and healthy dining options, so you won't ruin all those steps you've put in while lunching!  Looking to stay closer to home? No problem! The Villages at Brunswick Forest is loaded with restaurants and shopping boutiques within walking distance to your home!
Walking and biking trails are some of the most popular activities for the residents of Brunswick Forest. With wide roads and sidewalks, take in nature and the mild North Carolina climate as you explore all of the unique neighborhoods in our community.
With plenty of activities to keep you moving and local shops and restaurants all throughout Leland and Wilmington, Brunswick Forest and the surrounding area offers it all for a healthy and active lifestyle.
866-831-8289