SURF'S UP…EVEN IN THE WINTER!
January 31, 2017
Katie McAlick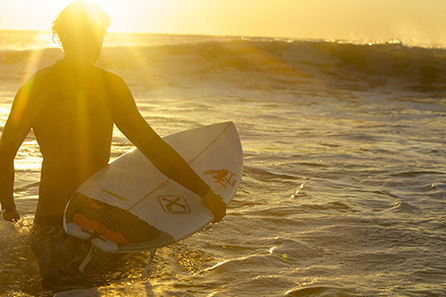 Calling all beach-goers and surfers! With the temperate climate offered in Coastal North Carolina, it's beach weather all year round. Head to Wrightsville Beach this season and catch the wave of all this beach side town has to offer from shops and restaurants to parks and great surf!
To make sure you're surf-ready this winter, hit the shops of Wrightsville Beach like Sweetwater Surf Shop or Surf City Surf Shop. They have all the gear you need to hit the waves. After your session, enjoy a coffee boost at South End Surf Shop!
When you need to take a break from the surf and sand, grab a bite at one of the many great restaurants of Wrightsville Beach! Tower 7 Baja Mexican Grill, a local favorite, offers incredible Baja dishes coupled with insanely good margaritas that are sure to satisfy! Another great local's spot is the South Beach Grill! Enjoy fresh seafood with a bay-side view from the restaurant's patio.
After lunch is complete, take a quick stroll around "The Loop" of Wrightsville Beach Park before heading home.
Living in Brunswick Forest makes it easy to enjoy a day at the beach…even in the winter!!
866-831-8289