ENCHANTED EVENINGS AND EVENTS AT AIRLIE GARDENS, WILMINGTON, NC
November 14, 2012
Brunswick Forest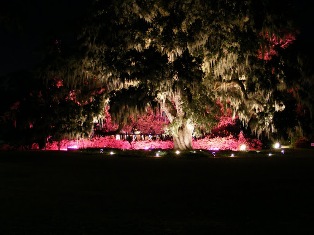 As the season of thanks and joy descends upon us, Airlie Gardens has made spending time with family and friends a beautiful holiday tradition. Airlie Gardens is located in the heart of Wilmington, NC and just a quick drive from the Brunswick Forest community. Year after year, these lush gardens continue to dazzle and delight all who stroll through. And it's no wonder; they boast a combination of formal gardens, wildlife, historic structures and sculptures, walking trails, more than 100,000 azaleas and the impressive 467-year-old Airlie Oak tree.
Coming this holiday season every Thursday, Friday, and Saturday from November 23 to December 22, Airlie Gardens will be enchanted with joyful fun! Enchanted Airlie was voted one of the Southeast Tourism Society's Top 20 Events. This year's enchanted event will include live music, festive lights, and the popular LEGO attraction.
So make your night memorable and head over to Enchanted Airlie, Wilmington, NC!