Choose a Path Frequently Travelled: Perfect Hiking Trails for Autumn
October 4, 2021
ISWebmaster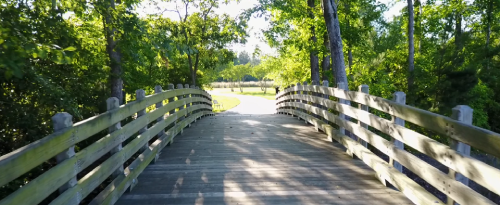 It's time to stretch those legs because October is a perfect time of year for hiking in nature. It's not too hot or cold, but an excellent balance that allows you to clear your mind and condition your body. Brunswick Forest is no stranger to the importance of nature, as we've built many of our amenities around it! In addition to up to 100 miles of our walking trails, there are several other great parks in the greater Wilmington area that are perfect for hiking in October.
Hiking is a relatively easy activity that anyone can engage in, so long as you have the right footwear and provisions. Hiking trails rate from easy to expert hikers only. You won't find mountain passes, craggy ravines, or raging glaciers in Wilmington, but there's still enough here to keep your attention.
Here are some parks that have hiking trails, great for anyone looking to move their feet in Brunswick and New Hanover County:
Brunswick Nature Park
2601 River Road, Winnabow, NC. Park hours run from 8 am until dusk.
Just a few minutes away from Brunswick Forest lies Brunswick Nature Park. Dedicated to preserving nature and coastal wetlands intact, this park has also given the public great dedicated picnic, kayaking, and even horse-riding areas. Naturally, there's some hiking trails at Brunswick Nature Park too. You'll be sure to get in a pleasant workout while taking in picturesque scenes of the world around you. Count on passing through coastal woodlands, past boggy swamps, stoic cypress trees, and longleaf pines. The Cape Fear River is nearby, so you might even get to see a variety of waterfowl and songbirds that thrive in these marshy areas. The hiking paths here are nice and solid, so you won't have to worry about steep inclines or unexpected changes in the terrain. This is also a great place to bring along a friend to hike with you, or maybe that special canine companion, as the trail is dog friendly.
Summer Rest Trail
1981 Eastwood Road. Hours run from 8 am until sunset.
Totaling 0.7 miles, Summer Rest Trail is located near Wrightsville Beach just behind the locally famous Port City Chop House. This woodland path runs between that restaurant and Summer Rest Road, for which the hiking trail is named. The paths of these beautifully wooded areas are paved and allow for an easy walk through the woods. Once you reach the part of the Summer Rest Trail that runs along the water, you'll be treated to a picturesque view of the Intracoastal Waterway. Lowland marshes, live oaks, and coastal wildlife make for a beautiful coastal trail. Bring your four-legged canine friend along with you if you want. 
6150 Rock Creek Road. Hours of operation are 8 am until dusk.
This special preserve is not far from Brunswick Forest and has quite the history behind it. First inhabited by Native Americans, the surrounding swamps, creeks, and vegetation fed the local tribes with wild game and fish. After settlers from Europe landed, many people owned this parcel of land. Most noteworthy of them was John Bassett-Evans, who acquired the property during the 1790s. To this very day, the land stayed in the hands of his family up to the present era. Now, the preserve is owned by Troy Henry, Mr. Evans' great descendant. The land has since been dedicated to public enrichment, offering some of the best space to bird watch, take photographs, and of course hike through pristine woodlands.
The area is primarily made up of oak and hickory trees, natural geologic formations, fields, ponds, and Town Creek. Ev-Henwood Nature Preserve is so large that it has two major trails, each of which you can take a self-guided tour of. Along the way, placards will point out species of plants and other notable landmarks, such as one of the oldest tar kilns in North Carolina. Ev-Henwood Nature Preserve not only has significant natural and historical values, but it's just a gorgeous place to move your feet. Dogs are not allowed on these trails. Be mindful of nature, pick up after yourself, and have fun!
Here are a few more hiking trail areas you can explore this October.