Brunswick Surgery Center – EmergeOrtho's November Update
November 17, 2018
Beth Burgee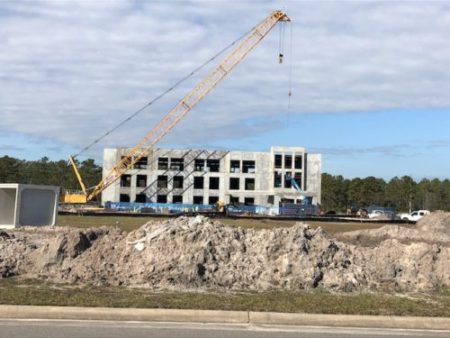 Breaking ground earlier this year, EmergeOrtho is making progress on Brunswick County's first outpatient Orthopedic Surgery Center. Brunswick Surgery Center will be located in The Villages at Brunswick Forest and will provide local residents with convenient, efficient and cost-effective care.
Since their groundbreaking on July 26th, construction has stayed on schedule for the facility. According to Emerge's Chief Administrative Officer, Jim Rouse, the Therapy and Pain Management is expected to open in June 2019, with the Orthopedic Clinic following behind in August and finally the Surgery Center should be completed by December of 2019.
"We are receiving lots of positive feedback from the public and community in support of our new comprehensive orthopedic center and the outpatient orthopedic surgery center that is known as the Brunswick Surgery Center that is the first dedicated orthopedic outpatient surgery center in Brunswick County," says Jennifer Loper, the Director of Marketing and Business Development for EmergeOrtho.
EmergeOrtho is fully dedicated to building a high quality, innovative outpatient orthopedic center and we are working with our teams to bring a world class dedicated outpatient surgery center to the area for the residents of Brunswick County.
Other notable updates on the facility can be found below:
The wall panels that were erected with the help of a 200-ton crane weighed 40-60 tons (80,000-120,000 pounds) each
The shorter walls on the right side of the building are where the generator will be located
Almost all of the steel beams are in place, providing support and tying the building together
Concrete is expected to be poured for the third floor this week
The roof membrane will be installed shortly after Thanksgiving
Windows are being measured and ordered
Once the roof membrane and windows are installed, they will begin to work on the interior walls
Their current office in The Villages provides a complete range of orthopedic care, including general orthopedics, joint replacement (hip, knee, shoulder), sports medicine, and specialized care in hand and upper extremity, foot and ankle, as well as neck and back.
www.brunswickforest.com
866-831-8382