EmergeOrtho Breaks New Ground in The Villages!
July 26, 2018
Beth Burgee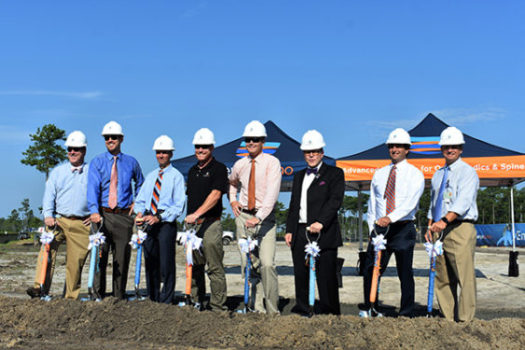 EmergeOrtho broke new ground this morning in The Villages at Brunswick Forest! Their newest facility will be Brunswick County's first outpatient Orthopedic Surgery Center and will provide local residents with convenient, efficient and cost-effective care.
EmergeOrtho was conceived in August of 2016 when four of the state's top orthopedic practices teamed up to provide the highest level of patient-centered care. Leaping into 2018, they are now serving our state with 49 offices in 21 counties that range from the mountains to our coastline.
Set to open towards the end of 2019, their new facility will neighbor Lowe's Food in The Villages, which is located in the front of Brunswick Forest. The new Surgery Center will offer operating and procedure rooms, examination and treatment rooms, as well as physical occupational therapy services.
Their current office in The Villages provides a complete range of orthopedic care, including general orthopedics, joint replacement (hip, knee, shoulder), sports medicine, and specialized care in hand and upper extremity, foot and ankle, as well as neck and back.
20965
false
true
true
false
true
true
false
auto
false
ease-in-out
300
auto
false
0
true
false
%curr% of %total%
www.BrunswickForest.com
866-831-8289