Brunswick Forest May/June Sales Event 2019
May 6, 2019
ISWebmaster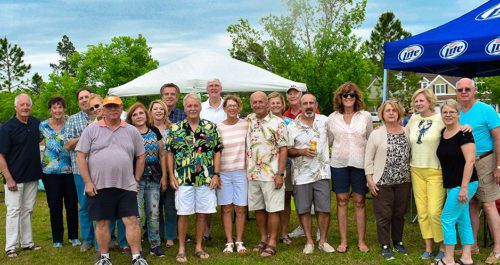 Chef Scott Euvrard of Cape Fear National's own restaurant, The Forest, will be welcoming guests with delectable appetizers. You can then kick back with a signature cocktail, beer or wine. This welcome reception will be taking place at the Welcome Center on Thursday May 30th from 3pm – 5pm. Following the reception, Fitness & Wellness is having the Phantom Playboys perform poolside from 5:30pm-7:30pm and this is a free event.
Friday will begin with lunch provided by Legacy Homes by Bill Clark. From 11am – 1pm you can have the unique opportunity of enjoying a meal in the Ellis model home in Cypress Pointe. From 5:30pm – 7:30pm enjoy our Progressive Porch Party in the gorgeous Dan Kent section of The Lakes, complete with live music. The Shelter Bay model 8413 Fontana Lake Court and the Amelia Bay at 8412 Fontana Lake Court will be where the fun is. Chef Scott will be providing heavy hors d'oeuvres and desserts at each model home.
How about a Saturday morning breakfast at the Brunswick Forest Welcome Center from 8:30am -10am? Legacy Homes by Bill Clark is hosting a gathering filled with breakfast treats & morning mimosas. Talk about a happy wake up call.
Often described by many as the fastest growing sport on four legs, DockDogs is an enticing event for any individual or family who loves dogs! While the event will be held at Annsdale Park inside Brunswick Forest, there will be a convenient shuttle service going to and from The Villages shopping center. This way, you can get in on the action no matter where you are. Open to the public, DockDogs will feature three very challenging events for dogs of all breeds! You can catch all the action both Saturday June 1st and Sunday June 2nd
Are you an avid golfer hoping to refine their game? Come on by Saturday's Golf Clinic at 10am. Looking to learn about pickleball and why it's become so popular? Swing on by the Pickleball Clinic at Leland's House of Pickleball also from 10am – 12pm. Learn the basics of the game and take advantage of a play package offered by the House of Pickleball's best instructors. You never know, you might just become a new pickleball fan.
Stop by for lunch with Kent Homes from 11am – 1pm on Saturday, where they will be providing a delicious lunch in one of their model homes. Then you can round out Saturday evening with a Tent Party at Cape Fear National's exquisite clubhouse from 6pm – 8pm. Chef Scott will prepare an enticing dinner, and in the meantime, you can enjoy the Dos Eddies Duo playing live music in the tent.
Sunday will have another breakfast at the welcome center prepared by Chef Scott starting around 8:30am until 10am, and there will be another Golf Clinic at 10am as well. Brunswick Forest will then provide sandwich trays, veggie trays and other grab-and-go food at the Welcome Center for lunch.
All weekend long you can take advantage of our other amenities, such as our state-of-the-art Fitness Center or our bike riding trails. You can even play a round of golf at Cape Fear National and see why it's a world class course, revered by so many players.
Brunswick Forest promotes a sense of community by bringing people of all walks of life together.