Brunswick Forest Featured in Build Magazine
December 18, 2020
ISWebmaster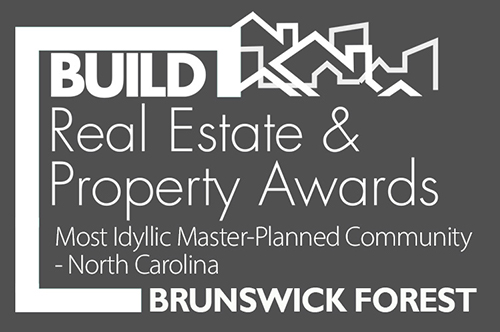 There are many attractive planned and master-planned communities throughout the country. But out of hundreds that exist, only a select handful are award-winning. Brunswick Forest is one community that is not short on awards and accolades, and it is something that we are proud of. Recently we have continued that legacy with a feature in BUILD Magazine for their 2020 Real Estate and Property Award!
Who or what is BUILD Magazine? It is a digital publication that is released quarterly dedicated to sharing updates in the construction and property markets around the nation. Free to receive and read, BUILD Magazine has proven to be an effective tool for aspiring homeowners who want to keep their finger on the pulse of what is new in budding developer areas. One of the most successful areas for home development continues to be Southeastern North Carolina, especially the Brunswick County area.
Brunswick Forest has recently been named Most Idyllic Master-Planned Community – North Carolina! To be "idyllic" is described as picturesque, extremely happy, or peaceful. This comes as no surprise, as Brunswick Forest is well-known in the area for having all three of those qualities. The views are breathtaking, and the lifestyle is laid back with enough freedom for an active lifestyle amongst great areas.  BUILD Magazine notes our prime location, detailing the 10-minute drive to historic downtown Wilmington, 30-minute beach trek and quick access to other hotspots like Southport and Bald Head Island. Aspiring homeowners who choose to become Brunswick Forest residents also have access to 10 preferred building partners, luxury amenities (such as two saltwater pools, outdoor courts for tennis and pickleball) and up to 100 miles of dedicated walking trails. All these qualities, as determined by BUILD Magazine, help make Brunswick Forest worthwhile as the award for most idyllic master-planned community.
There is a difference between a "suitable" community and one that is award-winning. Here at Brunswick Forest our team is always working hard to provide aspiring homeowners with a positive experience. Come by and see for yourself why Brunswick Forest has been awarded by BUILD Magazine, Ideal-Living Magazine and so many other reputable sources in real estate. Call us at 833-497-1001 and ask about how you can book a Coastal Discovery Tour before the new year!