BRUNSWICK FOREST BOAT REGATTA ROUND UP
October 18, 2013
Brunswick Forest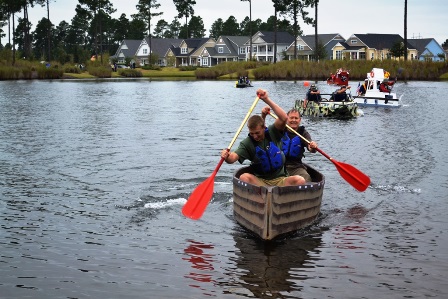 The 3rd Annual Brunswick Forest Cardboard Boat Regatta was a huge success and a great day at Hammock Lake in Shelmore! Residents from all neighborhoods of the community came out to watch the cardboard boat festivities, enjoy music and laugh with friends. The cardboard boats set sail at 1pm in a race on Hammock Lake where all of the participants competed for the coveted first place!
Thanks to all who participated in one of our favorite annual community events and congrats to those who won the top prizes!
First Place: The Conquerors
Best in Show: Evangeline Island
Best of the Worst: Redneck Christmas
Take a look at some of the photos from the day's festivities here!