Brunswick Forest April Sales Event 2019
March 11, 2019
ISWebmaster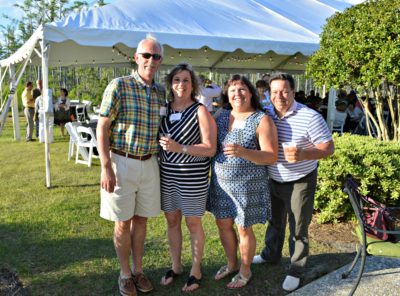 There's a never a dull moment at Brunswick Forest. As soon as a major event passes, we always have more in store for you to look forward to. A massive sales event is right around the corner in April. Here's what's on the itinerary.
Chef Scott Euvrard of Cape Fear National's own restaurant, The Forest, will be welcoming guests with a host of delicious appetizers. You can then kick back with a signature cocktail, beer or wine. This welcome reception will be taking place at the Welcome Center on Thursday April 11th from 3pm – 5pm.
Friday will begin with lunch provided by Logan Homes and BB&T. From 11am – 1pm you can have the unique opportunity of enjoying a meal in the newly completed Skiff model home. From 5:30pm – 7:30pm, enjoy our Progressive Porch Party (featuring live music!) in the gorgeous Cape Fear National neighborhood. The Sauthier II model at 3042 Catesville Circle and the Jarrett Bay at 3038 Catesville Circle. Scott will be at the Jarrett Bay model providing grilled delectables and hors d'oeuvres too! Dessert will be served in the Sauthier II model. There will also be an evening concert, open to the public, held at Annsdale Park with Port City Shakedown from 7pm – 9pm. Salty Sista's Food Truck will be on-site for concert dining.
How about a Saturday morning breakfast at the Brunswick Forest Welcome Center from 8:30am -10am? Legacy Homes by Bill Clark is hosting a gathering filled with breakfast treats & morning mimosas. Talk about a happy wake up call.
Looking to improve your swing or refine that lay up to the green? Come on by Saturday's Golf Clinic at 10am. If golf's not your thing, a you can fish, kayak, or partake in the SUP & Kayak Demo  taking place from 10am – 12pm at Hammock Lake in Shelmore. Ever hear of pickleball but never played before? Swing on by the Pickleball Clinic at Leland's House of Pickleball also from 10am – 12pm. Learn the basics of the game and take advantage of a play package offered by the House Of Pickleball's best instructors, and you just might have a new healthy addiction!
Stop by for Lunch in the Montcrest model by True homes from 11am – 1pm. You'll get a first-hand look at the models which will be built in the newly released neighborhood of Park West. Then you can round out Saturday evening with a Tent Party at Cape Fear National's exquisite clubhouse from 6pm – 8pm. Chef Scott will be tantalizing your pallet with a dinner that will have you coming back for more. In the meantime, you can enjoy the smooth sounds of the Douglas Irving Jazz Trio playing inside the tent.
Sunday's events will include another lovely breakfast at the Welcome Center from 8:30am – 10am. For which, Chef Scott will be preparing grab and go food to get you started on the right foot. Bell Custom Homes will host their luncheon at the Pale Oak model home in Cape Fear National from 11am – 1pm.
All weekend long you can take advantage of our other amenities, such as our state-of-the-art Fitness Center or our bike riding trails. You can even play a round of golf at Cape Fear National and see why it's a world class course, revered by so many players.
Brunswick Forest promotes a sense of community by bringing people of all walks of life together.