Get to know Brunswick Forest with a Team Tour!
July 25, 2019
Katie McAlick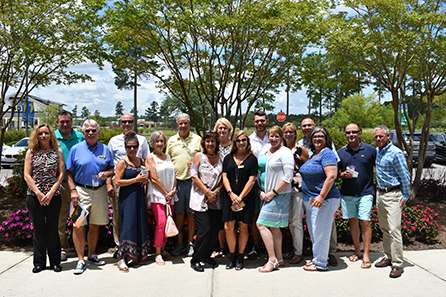 Not only do we offer tours for our clients, but we're also offering tours for our outside brokers, too! Join our Brunswick Forest Broker Relations Specialist, Kelly Gorman, and a few of our on-site Brunswick Forest agents in a personal tour of our community to get an inside look at our model homes, activities & amenities, as well as our newly released properties. Our tours last about 2 hours and end with a lovely catered lunch at our Welcome Center.
Want to know more about our resale homes? Brunswick Forest offers a monthly Resale Caravan where we invite Brokers to take a tour of all the latest resale homes within Brunswick Forest. This tour is open to all agencies.  Caravan attendees will gather at our welcome center and go out as a group to each home then return to our Welcome Center for a catered lunch and monthly prize drawing.  Each time you attend a Broker caravan at Brunswick Forest your name will be entered in an end of the year drawing for a cash prize.  So, it is worth your while to attend monthly.
For more information or to schedule a tour for yourself or your team, reach out to Kelly Gorman at kgorman@brunswickforest.com!
Don't forget to stay in the loop! We have information on our tours and Resales Caravans updated and posted on our Broker Relations Facebook page, too, along with any additional broker activities happening in the area such as golf outings, seminars, and more!