Kelly Gorman & Broker Relations
June 7, 2019
ISWebmaster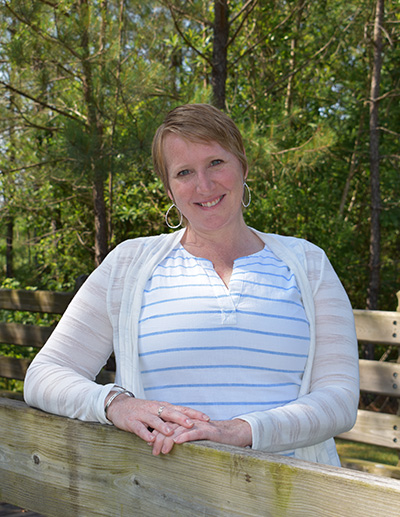 The always positive Kelly Gorman has been a part of the Brunswick Forest real estate team for 11 years. We caught up with Kelly as she describes her new position dealing with broker relations.
Originally hailing from Saratoga Springs, New York, Kelly Gorman was captivated by life here on the Carolina Coast. "Between the lack of snow and the lower taxes it was hard to stay up North," Kelly says with a laugh. Once she got a taste of life down South, Kelly never looked back! She found that there was simply so much to do in the greater Wilmington area, it was the perfect mix of what she was looking for. When asked what first brought her to our community, she stated that it was a friend who first let her know of Brunswick Forest. "I have always liked real estate, and my friend who worked at Brunswick Forest told me about the community. I started working at Brunswick Forest in 2008 and received my real estate license in 2009." Kelly has moved from receptionist, to IT property management and currently holds a position in broker relations.
When asked how she would describe broker relations, Kelly tells us, "Brunswick Forest is a very broker friendly community. My role here is to help our local brokers learn more about our neighborhood, our homes and what each has to offer potential buyers.  We want our broker friends to feel comfortable bringing their clients to Brunswick Forest, so I make sure that each brokerage office has the latest information on amenities and available inventory. Our agents work hand in hand with our brokers to provide each buyer with the best real estate experience possible. This includes having buyers take advantage of special opportunities like our Coastal Discovery Package. It's my goal to make sure that each broker also has a good experience here."
Kelly's favorite part about Brunswick Forest as a community, is seeing how property owners connect with one another. "When people live at Brunswick Forest, they become part of a big family." Kelly finishes by explaining, "That's probably the best part of what I do. Seeing all the resident's bond with one another is great. The residents also closely bond with our staff, making us part of their family too! Property owners have invited me to home gatherings, lunches and other events."
Broker relations is all about the balancing act of keeping everyone satisfied. Because of this, our team is very fortunate to have Kelly Gorman on board!