Botanically Brilliant: The Arboretum and Local Gardens
March 20, 2020
ISWebmaster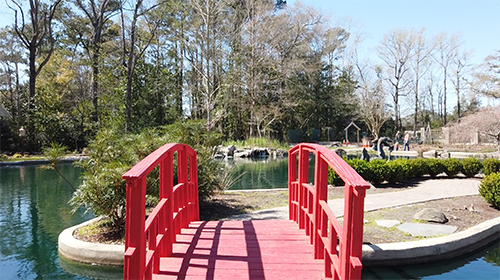 Southeastern North Carolina is a treasure trove of natural beauty, and Brunswick Forest is right in the center of where you want to be this time of year. Spring is here and that means wonderful weather and newly formed blossoms will soon be a common sight all around. In addition to being home to several enjoyable natural areas, the master-planned community of Brunswick Forest is relatively close by to one of the most popular gardens in the greater Wilmington area; The Arboretum.
Appreciating nature can do your body and mind wonders.  Be it using the local walking and biking trails, playing tennis outdoors, golfing, walking your dog, or kayaking out on the water, there's always a way to make use of the natural beauty in our area. If you're looking for a real botanical spectacle, then Wilmington residents know of no better place than the Arboretum. Comprised of seven acres of cultivated land, The Arboretum is the local area's dedication to preserving horticulture. It's a dynamic place that constantly tries to meet the educational needs of the public, while offering a relaxing spot to unwind for all ages.
Originally the brainchild of Dr. Charles "Pete" Lewis, The Arboretum was first devised in the late 70s, as the surrounding areas began to switch from rural to a developed urban center. Dr. Lewis recognized the need for an area for both consumer and recreational horticulture. After a fire destroyed the original Bradley Creek School in 1982, the county saw it fit to repurpose the grounds. Several years later with lots of hard work, The Arboretum first opened its grounds in 1989. Today, the gardens are a living laboratory, featuring ponds, gazebos and of course several species of plant life. Roses, lilies, grasses and more can be found here. You can also find plenty of local wildlife that will be attracted to all the gorgeous colors in vicinity, such as butterflies and hummingbirds.
Here are some native plants that you can find in our area:
Dwarf Crested Iris – These beautiful blue flowers are easily spotted in the early spring, growing lower to the ground from their strappy green foliage.
Azalea – Possibly one of the most prolific and well-known flowers in the Wilmington area, these gorgeous blossoms can come in different shades of pink, orange or even white! They are colorful and invoke images of the Antebellum periods of yore. This flower even has its own local festival, the Wilmington Azalea Festival which is held downtown every year.
Magnolia – Fragrant white Magnolias have long been associated with Southern culture. You can easily spot these tall trees with their waxy evergreen leaves, often being visited by bees and other pollinating creatures.
Flowering Dogwood – The state flower of North Carolina, the Dogwood's beauty will add a lovely touch to any natural area you're visiting. You can often find Dogwood trees dotting the landscape in yards and gardens across the Southeast.
Live Oak – These ancient trees have long stood guard over the Southeastern coastal woods. Often covered with gnarled branches, large canopies and hanging Spanish moss, many local live oaks date back several hundred years! Their wood has been used throughout history to make boats, homes and other building materials.
If you're looking to be immersed in nature, then Brunswick Forest is the community for you. There's so much natural area to take advantage of, you'll rarely be lacking in healthy outdoor activities and tranquil scenery to behold.