Bold, Well-Equipped, and Stylish: The Mimosa at Brunswick Forest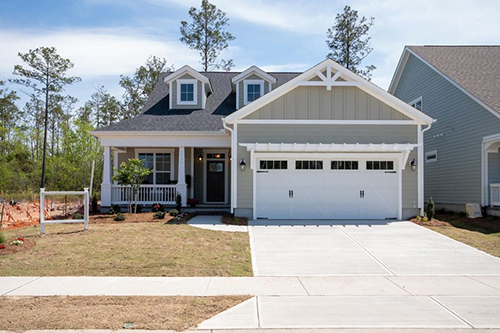 Single-level living has become increasingly popular for aspiring homeowners because it's very convenient. Single-story homes are a perfect blend of practicality and comfort. One such home that embraces these qualities, is the Mimosa from Legacy Homes by Bill Clark. Brunswick Forest is proud to feature this stunning home as this month's featured model.
Custom designed from the ground up, courtesy of Legacy Homes by Bill Clark, this three-bed and two-bath home is one of the latest new listings available at Brunswick Forest. Perfectly suited to the homeowner looking for livability and easy access, the Mimosa offers you a variety of lifestyle choices. From the spacious front porch to the high ceilings and gourmet kitchen, the Mimosa is a home where no detail was overlooked. Here are some quick details regarding this home:
With an open floorplan, the sheer amount of space in the great room of the mimosa is a wow factor. Single-level living also affords the homeowner a low maintenance lifestyle and the ease of aging in place. This home is fully furnished with a comfortable sofa, decorative shelving, and even a large gas fireplace. Moving from A to B is no problem, as the hallways of this home are also quite wide. The floors are luxury vinyl plank that complements the Mimosa's main living area. Imagine waking up each morning to prepare breakfast in a spacious kitchen with a tasteful white tile backsplash, large granite island, gas stove, and modern stainless-steel appliances at your disposal. The Mimosa is perfect for any home chef with large cabinetry with steel hardware. A smooth granite countertop wraps around the kitchen space, so you can have the space needed to provide for and entertain guests. The formal dining room is set next to six large windows, allowing for plenty of natural light throughout the day.
Just a few steps down the hall and you will find the master bedroom. It's large with soft white carpeting and features a large, exquisite bathroom with a spa-style, walk-in shower. You can even find a spacious walk-in closet. There's lots of room in the spare bedrooms to accommodate guests or even a custom office space. To complement this already exquisite abode is the large screened-in porch perfect for enjoying a gorgeous Carolina evening with friends and neighbors.
The Mimosa is a wonderful single-level home that you can build anywhere in Brunswick Forest. Contact our real estate team at 833-497-1001 and find out how you can make this home for yours!