BOCCE BALL TIPS AND TRICKS
November 23, 2014
Brunswick Forest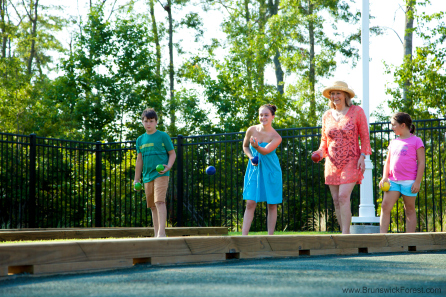 Bocce ball, or simply "bocce" has its origins in games played by the ancient Romans. The sport is popular in Europe and in many active communities like Brunswick Forest. If you are interested in taking up bocce ball, here are a few tips and tricks to help you with your game.
PRACTICE YOUR ROLL BEFORE PLAY
Each court is different and it sometimes takes a little bit of time to get in to the swing of the game. Take a few practice rolls before the game starts to help you get in the zone.
SURVEY THE COURT
Typically, bocce ball courts are covered in turf, real or artificial. Even the most manicured of courts still have changes in elevation, though, so it is important to survey the court before play to better be able to predict the roll of the ball. At Brunswick Forest, our bocce ball courts are located at the Hammock Pool and Annsdale Park. Both are hard surface courts.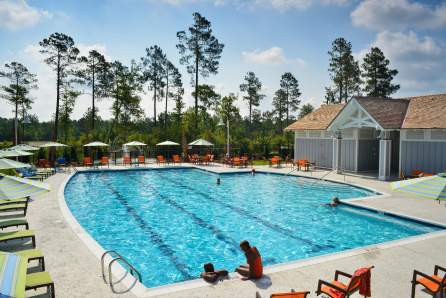 HAVE THE RIGHT GRIP
The right grip is the key to making a good toss in the game of bocce ball. Before releasing the ball, spread your fingers out evenly to support the weight of the ball and make sure to not apply any pressure with your thumb. Your thumb is simply there to guide the ball where you need it to go.
DON'T GIVE UP!
Although, on the surface, it may seem like a simple game, skill in bocce ball develops over time. Do not get frustrated if you are not an expert right from the start. Keep at it, and you will be winning games before long!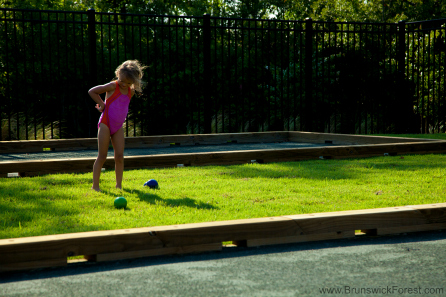 888.831.2434
www.BrunswickForest.com