As Seasons Change, So Do We! Autumn Activities at Brunswick Forest
August 21, 2019
ISWebmaster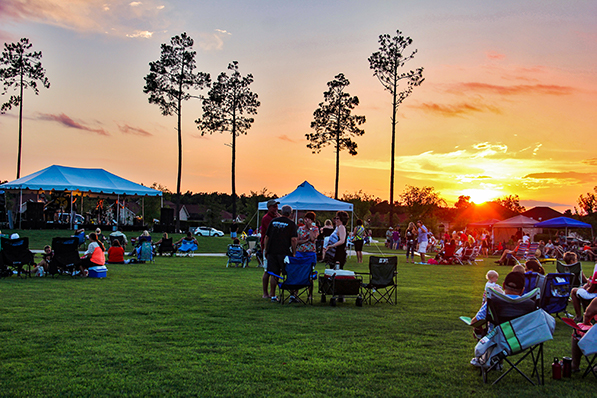 As summer turns to fall, most will already begin thinking about cooler weather. Fitness director Nicole Stone, shares some of the most popular Autumn activities that you can participate in!
Being an active master-planned community, Brunswick Forest prides itself in providing year-round amenities. The massive and well-equipped Fitness and Wellness Center is a great example. Weight rooms, cardio equipment and several sizable areas, to host resident-sponsored activities, are just some of the amenities available in cooler months. Residents can also make use of the wide-open areas at Annsdale Park, Hammock Lake's Fitness Center, the Community Commons or the tennis and pickleball courts. Golfers can enjoy a world-class golfing experience at our very own Cape Fear National golf course. "I see plenty of activities going on during the Autumn season both at the Wellness Center and in other areas around Brunswick Forest," Nicole tells us. Some further examples of activities that take place this time of year are pub tours, dinner and jazz events, Art in the Forest, the Oktoberfest 15k and 5k races, Halloween party and the amazing fall festival.
While all the activities offered are well-liked by the residents here, Nicole cites Art in the Forest, Football tailgating parties and dinner and jazz being by far the most popular ones. "Our residents look forward to being able to see artwork by fellow residents, dining with great music and getting ready for fall sports," Nicole states. The Fitness and Wellness Center is well-suited to hosting these types of events due to its large meeting room, and the abundance of parking outside. For those who still want to have a great time in the water, the Wellness Center has a five-foot deep indoor pool that allows for aqua classes year-round.
When asked what her personal favorite fall activities are, Nicole has this to say, "The tailgate party is one of my personal favorite activities to see happen. Residents will wear their favorite teams' jerseys, cook out and share stories from home. This event takes place at Annsdale Park."
With three big spaces to congregate together and a fourth on the way, Brunswick Forest is the perfect community to make the best out of your upcoming Autumn season! There's also over thirty resident-sponsored clubs and activities that will satisfy any interests you may have. To live your best life on the Carolina coast, you should live in Brunswick Forest.