An Ideal Golfing Paradise – Just a Drive Away: Cape Fear National
August 25, 2021
ISWebmaster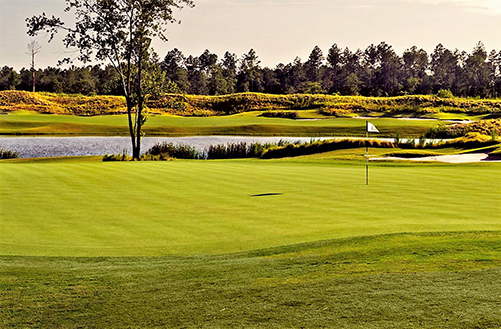 Sweeping bunkers, rolling fairways, over-fertilized greens all nestled in an enclave of a picturesque coastal environment; This scene perfectly describes what it's like to tee off at Cape Fear National golf course here at Brunswick Forest. Regardless of if you're looking for a great place to play 18 holes, lounge with friends at an upscale clubhouse, or get some new gear at a well-stocked pro shop, Cape Fear National is one of the best courses North of Myrtle Beach!
As the heat of summer begins to lessen in September, the air becomes a perfect mild temperature. For those who like to be outside when it's not too hot, there's never been a better time to enjoy an award-winning championship golf course. Designed by celebrated course architect, Tim Cate, Cape Fear National seamlessly melds with its natural surroundings and provides a good challenge to golfers of all skill levels.
The real driving force behind why so many dedicated and casual golfers love Cape Fear National is the variety of obstacles it provides. Long bunkers provide tricky traps to lob your ball over, hilly terrain encourages you to analyze your shots, and tight greens allow for pinpoint putting. When designing the course, Tim's mission was specifically focused on creating the best course in the Wilmington market outside of Myrtle Beach.
That's exactly what you can expect from playing at Cape Fear National. Playing early in the morning or late in the afternoon allows for a great immersive experience that anyone can enjoy, regardless of your level of dedication to the game. For serious golfers, Cape Fear National has constantly proven to be a golden standard in the Southeast. Don't forget, you can also head on over to The Forest Restaurant after a game, have a drink, and enjoy a high-quality menu. And if it's an equipment or wardrobe upgrade you're looking for, there's no better place to look than the pro shop. It's fully stocked with trusted brands like Titleist, Taylor Made, and Ping. The pro shop is a perfect way to start or end your day at the course.
The management team over at Cape Fear National is also very accommodating. Whether it involves getting a tee time or giving back to their community, directors like Charlie Garaventa always go out of their way to ensure you have a great time. Just this month the crew at Cape Fear National, alongside the Men's Golf Association, donated dozens of pieces of golf equipment for The First Tee of Coastal Carolina. This is an organization that dedicates itself to teaching the game of golf to kids and teens throughout Southeastern North Carolina.
For some, the golf course isn't just a place to play, but an enviable object of real estate exclusivity. Golf course living is highly sought after by many looking to retire or relocate due to being more private, and that it can benefit you as a homeowner regardless of if you love the game or not. Golf course living increases property value, gives golfers proximity to a course, and provides increased nature views with abundant privacy. Cape Fear National provides all these benefits and more, both as a course and a neighborhood at Brunswick Forest. Our latest addition, The Peninsula at Cape Fear National, should prove to be the most exclusive of all our developments with less than 100 lots in total.
With 18 gorgeous holes, Cape Fear National should be on your late Summer or early Autumn bucket list. You can experience everything for yourself by RSVPing to one of our upcoming Coastal Home Showcase Weekends, or call Cape Fear National at 910.383.3283.