A Neighborhood Suited to Your Tastes
September 17, 2021
ISWebmaster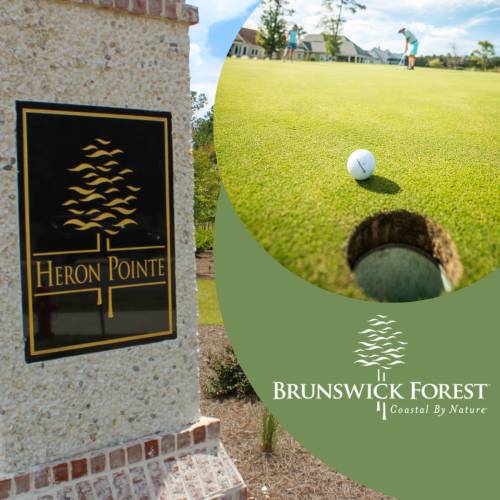 A home should be like a custom-tailored suit or piece of clothing, in that it's not always the "one size fits all" mentality. Homebuyers have different wants and needs, and their residence should reflect those. Some are looking for a golf course view with privacy, and others want a neighborhood with a smart layout and modern home features as standard. Two upcoming neighborhoods in Brunswick Forest, Heron Pointe and The Peninsula at Cape Fear National, fill these categories appropriately.
The Peninsula at Cape Fear National is all about golf course exclusivity. Golf course homes are often prized by people looking to relocate, as they provide phenomenal nature views and a sense of being in an enclave of your own. Even those that are otherwise uninterested in playing golf enjoy this style of neighborhood, because they are tranquil and can increase property values. The Peninsula, when completed, will be Brunswick Forest's magnum opus. With just 94 homesites in total, these spaces have been selling fast! For those looking to slow down and savor life in a luxury environment, The Peninsula is going to be for you.
Cape Fear National is already considered one of the finest championship courses in the Southeast, and The Peninsula overlooks no less than three attractive holes. There will be native landscapes surrounding the neighborhood, and homesites will have up to half an acre of land for you to build upon. Each home here will be focused on having a stately feeling with ample greenspace, to appeal to the nature lover. Simply put, The Peninsula at Cape Fear National is for someone who's looking for a higher standard of living with all the benefits of a golf course home.
Heron Pointe will be built exclusively by a premier national builder. It will feature a modern neighborhood layout that is perfect if you're seeking smaller homes with modern features: gas stoves, open floor plans, large kitchens, high ceilings, and generous main living areas. Heron Pointe will introduce 200 new homes to Brunswick Forest. These homes will feature Smart Living Technology including doorbell cameras and the ability to control HVAC and electronic door locks from your smart device. Value is important with the floor plans in Heron Pointe.
Regardless of your tastes, Brunswick Forest has two stunning upcoming neighborhoods that will fit your needs. If there's a particularly active lifestyle you want to build, we're positive our team can help you find the home of your dreams. For further questions about The Peninsula at Cape Fear National or Heron Pointe, please contact us at 833-497-1001. You can also come to visit us anytime with our Coastal Discovery Tour or during our Coastal Home Showcase Weekends, to you can see if Brunswick Forest is where you belong.