A Home with Real Soul: The Biscayne III by Liberty Homes
April 30, 2021
ISWebmaster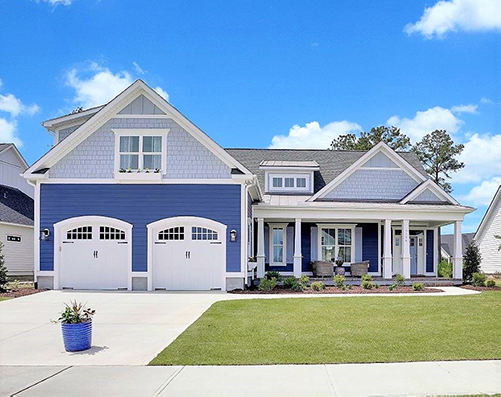 Liberty Homes is one of the many builders here at Brunswick Forest who always goes above and beyond in their floor plans. The Biscayne III is a fantastic example of this philosophy in practice.
Located at 8114 Manassas Lake Lane, the Biscayne III is a single-family home that is all about details, space, and craftsmanship. It's no wonder that this home just achieved the Gold award in the Wilmington-Cape Fear Parade of Home and is a number one selling floor plan for Liberty Homes!
The Biscayne III offers 3,813 square feet of living space.
Five bedrooms
Three baths
The floors in the Biscayne III are polished, rich colored wood and lead into a substantial main living area. There's a hearth in the center of the room and is near the spacious kitchen complete with stunning blue subway tile backsplash and quartz countertops, perfect for any hosting occasion. You'll also be delighted with the pleasant view of the outdoors in the large, fully glassed-in lanai.
Whether you have a large family or expect many guests around the holidays, the Biscayne III has the space to accommodate everyone; the first floor offering a room for an optional study or guest room. The closet space, laundry room, and dining room are also very spacious. Coffered ceilings and custom tray ceilings are luxury features in the Biscayne III. The master bathroom welcomes you with a personal spa-like oasis, with a patterned gray tile and quartz countertops. Regardless of which room you decide to peek into, you're going to be marveled at how much this home has to offer.
The Biscayne III by Liberty Homes is an award-winning home you'd be delighted to tour for yourself. Brunswick Forest is honored to have such a gorgeous home be a part of our master-planned community. If you've been searching for a large and gorgeous home on the Carolina coast, this is your chance to tour something special. For more details contact our sales team at 833-497-1001