A Community Where All Are Welcomed
August 31, 2022
ISWebmaster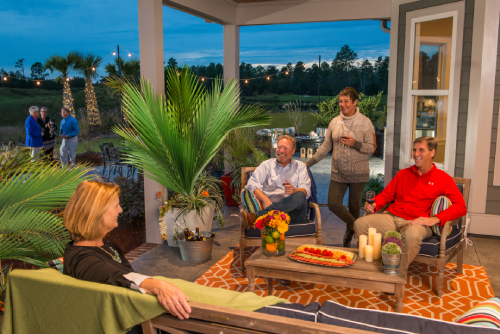 Becoming a Part of Something New
Feeling welcomed and included is one of the most important parts of moving to a new neighborhood. Support from fellow neighbors that become friends is the foundation upon which all great communities are built. Meeting others like yourself, bonding, and connecting over shared interests is part of what makes a place like Brunswick Forest special. Our goal is to be a community where all are welcomed and there is something offered for everyone.
We Welcome You with Open Arms
Besides welcoming residents who are keen to make new friends and share common interests, our real estate team will go above and beyond to make sure every aspiring resident feels welcomed in the community. When working with new transplants, we're interested in learning their personal story. We're interested in knowing your reasons for moving to Brunswick Forest, who you are as a person, your interests, and what made you choose coastal Carolina. If you visit using a Coastal Discovery Tour, our agents will also be your guide. We'll take quality time to introduce you to our amenities, neighborhoods, builders, and the greater Wilmington area.
Acceptance Not Pressure
Most of all, we're not about to push you to decide on anything. The Brunswick Forest experience is one of complete acceptance, respect, and giving you lots of breathing room for exploration. Our goal is to ultimately help you find the right fit for you and your desired lifestyle.
Going Above and Beyond
In terms of interacting with our preferred building partners, Brunswick Forest goes the extra mile to make you feel welcomed. We work hard to place you in control, giving you an abundance of options in terms of building a home. Our team wants you to unleash your inner designer, and let your imagination run free as you create a home that's unique to your lifestyle habits. In this sense, we've done a lot of thinking for you, removing any traces of stress from the building/discovering processes. These are all expectations you should have when first visiting Brunswick Forest.
Why Our Residents Love Brunswick Forest
Residents love living in Brunswick Forest because of the inclusive nature, amenities, and location. These qualities help new residents to quickly settle in, have their needs met, and get into living their best life. From cookouts at the community commons to annual craft fairs, pickleball, and resident-sponsored activities, Brunswick Forest has plenty of methods for newer transplants to forge fresh bonds with others. Speaking of resident-sponsored activities, if you have a favorite hobby or passion, you can count on finding a place with like-minded residents. Clubs and groups are a fantastic way to make new friends and see how welcoming our community is.
You Are Welcome Here
When a new resident first makes a move to live at Brunswick Forest, one of the most common comments that we hear as a team is, "I was shocked at how easy it was to make friends here!" While moving to a new community can have its fair share of challenges, Brunswick Forest emphasizes accepting new residents from all walks of life. Our team and residents are ready to welcome you home, so, come and share your story with us! To learn more about if Brunswick Forest's Coastal by Nature® lifestyle is for you, contact our team at 833-497-1001.