70 West Builders Stands Out in Brunswick Forest
November 21, 2017
Beth Burgee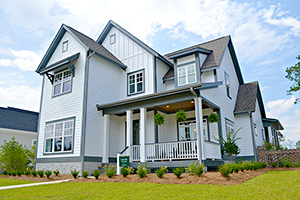 70 West Builders joined the Brunswick Forest Preferred Builder Team just a few short years ago, but they have conjured a following with their stand-out style and floor plans offered in our award-winning master plan community.
70 West Builders believes in building a quality home at an affordable price while treating their clients with honesty, respect and dignity.  The 70 West Difference shows in their innovative floor plans and cutting-edge designs creating a home as unique as each homeowner they work with.  They focus on adding stand-out details like larger baseboards and moldings, fun and funky back splashes, painted doors and barn doors, and fantastic landing stations within each home.
You will find 70 West in the Brunswick Forest neighborhoods of the Shelmore (Neo-traditional), Cypress Pointe (Low Country Charm) and Cape Fear National (Custom Estate Homes).
Take a peek at each of their fantastic flowing floor plans offered in Brunswick Forest:
Learn more about the team behind the 70 West Difference HERE!
www.brunswickforest.com
888.371.2434