2020 Bucket List for Wilmington and Leland Bucket List
January 10, 2020
ISWebmaster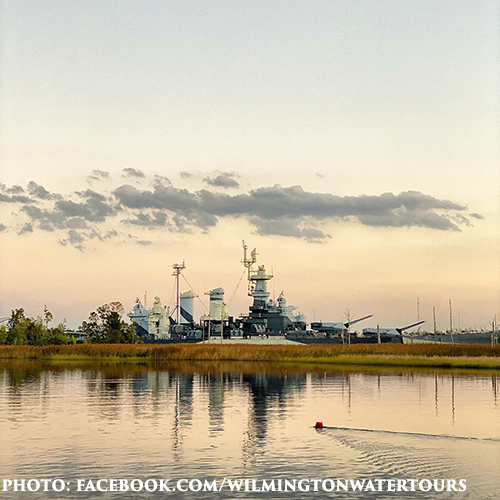 Happy New Year to all our residents at Brunswick Forest! The holiday season sure blazes by at a frightening speed, doesn't it? There's no need to worry though, because no matter what time of year it is, you can always find something to do around the neighborhood. Don't forget, one of Brunswick Forest's biggest advantages is that we're only minutes away from downtown Wilmington and other local Brunswick County areas! If you're looking for activities to do outside of the community of Brunswick Forest, a short hop across the Cape Fear River is all it takes. Look at some of these relaxing areas around town and put them on your bucket list for 2020!
Odell Williamson Auditorium is one of the grandest music and performance venues located in Brunswick County, NC. Part of Brunswick Community College, you will find that this auditorium is the perfect place to view a show or listen to live music. There's ample seating, a spacious atmosphere and a sizable stage. This place has everything you need to relax and entertain yourself for the new year, with performances by the Mint Julep Jazz Band, Cirque Zuma Zuma and The Kingston Trio.
Odell Williamson Auditorium:
150 College Rd NE, Bolivia, NC, 28422
Looking for a little more diversity in your outdoor experiences for the new year? Try adding Cypress Cove Recreation Park in Leland to your 2020 bucket list for relaxation. This is an excellent place to meld with nature and take advantage of our area's year-round mild weather. The park itself features a kayaking area, picnic areas, campfire pits and scenic views. Over 27 acres of wetlands will stretch out before you, offering fishing areas, handicapped access and areas where you can relax near the banks of Mill Creek.
Cypress Cove Recreation Park
844 Appleton Way NE, Leland, 28451
Nothing says shopping in historic downtown Wilmington quite like The Cotton Exchange does. This historic building has stood in the local area since 1874, when the premises was used for refining and selling bales of cotton from nearby plantations. Now, the area serves as the location for more than 20 great shops and even several dining areas! In this building, you'll have easy access to several stores including Top Toad, Port City Pottery & Fine Crafts, Emory's Crystals, Down to Earth, Coastal Paws and Cape Fear Footwear! To make your outing even more enjoyable, there are several cafes and restaurants where you can relax. These include Java Dog, The German Café, Paddy's Hollow and The Basics. From the quaint cobblestone walkways, to the rustic brick lining the walls, The Cotton Exchange offers the perfect way to spend a day downtown in January.
The Cotton Exchange
321 N Front Street, Wilmington, NC, 28401
Hours: 10am – 5:30pm Monday – Saturday, 12pm – 4pm on Sundays
Sometimes you just need a good cup of coffee to keep you going, or maybe you're looking for a fine area to relax with a friend after a day of shopping. Bespoke Dry Goods and Coffee in downtown Wilmington offers a quaint place to rest your feet while indulging in signature coffee beverages. Mimosas, wine, draft beer, tea, hot chocolate, cappuccino, café mocha and many other fabulous beverages to sip on. The charming space inside Bespoke invites a very warm atmosphere, with plenty of benches, stools and couches to rest on. If you haven't yet traveled to Bespoke after a great day on the town, then be sure to give it a try.
Bespoke Coffee and Dry Goods
202 Princess Street, Wilmington, NC, 28401
Hours: 7am – 6pm Monday – Saturday, 9am – 4pm on Sundays
Travel the length of the historic Cape Fear River in comfort and good company! Wilmington Water Tours has entertained visitors to Wilmington for years on end, offering spectacular views of the downtown skyline in a way that only a boat can. Their state-of the-art catamaran, "The Wilmington," is fully enclosed, handicap accessible and can accommodate up to 49 passengers. The boats are fully ABC licensed, so you can indulge in a beverage or two while taking in the sights. You'll learn about the local wildlife, history and importance of the Cape Fear River! They offer daily narrated cruises and water taxi services across the downtown area. You can use the cruise to learn more about the local area, catch a sunset over the horizon or maybe just to try out a new experience. There are full moon cruises at night, and even cruises that involve live music playing on deck! Often featured as part of Brunswick Forest's Coastal Discovery Package, Wilmington Water Tours should be on your to-do list for the new year. Tickets for a great experience ranges from $15 to $50, depending on the cruise you choose.
Wilmington Water Tours
212 S Water Street, Wilmington, NC, 28401
Hours are 10am – 5pm Tuesday – Thursday and Sundays, 10am – 7pm on Fridays and Saturdays, 10am – 4pm on Mondays
First opened in 1961, Battleship North Carolina is one of the most recognizable national landmarks in North Carolina. For an inside peek at what life was like for the sailors that used her as their home, we more than encourage you to climb aboard for the new year if you haven't yet experienced it! Guests are free to explore all nine massive decks of this great American Naval fighting machine. Explore the massive engine room that once powered the ship through the Pacific Ocean. Check out the crew bunk areas or relax in the mess decks. See what the view was like for commanding officers up on the bridge. You can even sit in the massive deck guns, bristling across the deck of this incredible vessel! What better way to kick of 2020 then to take a walk on board one of the most legendary vessels in American history?
1 Battleship Rd NE, Wilmington, NC 28401
Hours are 8am – 5pm Monday
Tickets are $14.00 for ages 12 and up, $10.00 for ages 65 and over/military personnel, $6.00 for children ages 6 through 11, and children 5 and under get in for free.
Regardless of what plans you have for the new year in 2020, be sure to get some of these plans crossed off your bucket list. If you're looking to learn more about how you live close to the Wilmington area, contact Brunswick Forest at: 855.983.9579