2014 BRUNSWICK FOREST BOAT REGATTA RECAP
June 20, 2014
Brunswick Forest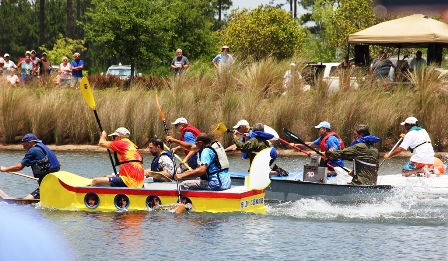 At this year's annual Cardboard Boat Regatta, teams went all out! Along the banks of beautiful Hammock Lake residents and neighbors gathered to enjoy a little friendly competition at this one-of-a-kind boat race. Cardboard boats of all shapes, sizes and designs raced for the top spot, check out our recap of the winners!
Speed and precision helped the Park Landing team land the top spot. The S.S. Skidaway was skillfully designed to float three rowers and even had a shark painted along the side for added imagination!
Best in Show- The Ashwood Argonaut's
This boat was creatively designed to incorporate a colorful mermaid into the boat! Ashwood team members were dressed to the nine's in full out toga wear!
Best of the Worst- Team Brunswick Forest
Team Brunswick Forest secured this award hands-down with its "late entry" of the 8-seater golf cart landing right into Hammock Lake!!
Cardboard Boat Regatta Race Winner- S.S. Skidaway of Park Landing
Check out photos from this event here!
888.371.2434
www.BrunswickForest.com