Yuletide Activities In Our Local Area
December 13, 2019
ISWebmaster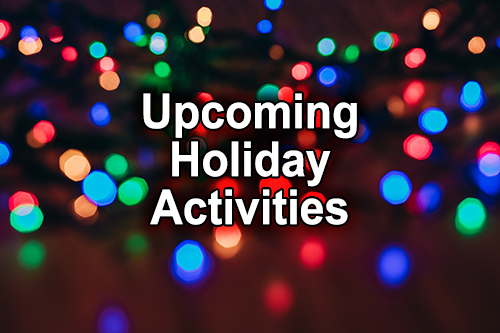 Deck the halls with lots of fun, because there's always something phenomenal waiting just around the corner, in Southeastern North Carolina! Having an ideal location between both Brunswick County and downtown Wilmington, Brunswick Forest is keen on keeping you up to date with all the action in your local area. December is a big time for many people due to Christmas, Hanukkah and the approaching new year. With so much happening, there's always something fun going on to take note of!
Leland is one of the fastest growing areas in the Southeast, and likewise has become full of fun holiday events that you can check out on your own, or with family and friends! What better way to celebrate the magic of the holidays than catching a Christmas movie outside in the open air? Founder's Park in Leland, just minutes away from Brunswick Forest, will be hosting a Christmas movie double feature! Grab a blanket, get cozy and enjoy the evening atmosphere, as Will Farrell's Elf will kick off the evening. This will be followed by the classic Tim Burton film, The Nightmare Before Christmas. Concessions will be available during the event!
Movie in the Park Christmas Double Feature:
Where: Founders Park, Leland, NC, 113 Town Hall Drive
When: December 13th at 6pm
Price: Free

Concessions available for purchase
People always tell you, don't forget to leave some cookies and milk for Santa. Well, for these next two events, Santa is saving a special spot at the table just for you! Little ones can join Santa himself for breakfast at Leland Cultural Arts Center, and cookies the day after! There will also be arts, crafts, story time and pictures with Santa as well.
Breakfast with Santa:
Where: Leland Cultural Arts Center, 1212 Magnolia Village Way, Leland, NC
When: December 17th Breakfast starts at 9am
Price: Free
Cookies with Santa:
Where: Leland Cultural Arts Center, 1212 Magnolia Village Way, Leland, NC
When: December 18th, 6:30 pm
Price: Free (Make sure to pre-register)
How about a little holiday entertainment, Thalian style? Historic Thalian Hall, in downtown Wilmington, will also be showing their version of the holiday comedy Elf but live on stage! Join the journey of Buddy the Elf as he hunts for his identity in normal society, far from Santa's workshop! It's a heartwarming tale that everyone can enjoy.
Elf the Musical:
Where: Thalian Hall, downtown Wilmington, 310 Chestnut Street
When: Showtimes are December 13th, 14th, 15th, Dec 20th, Dec 21st and Dec 22nd. Times are 2pm, 3pm and 7:30pm
Price: Tickets start at $66.00 each
Celebrate the holidays with family and friends, colonial Carolina style! It's the Merry Little Christmas Festival at Poplar Grove Plantation. Twinkling arts, crafts and gifts will be on display in the bazaar, while kids are free to run around and play amongst the grounds. Kids can also visit the Snow Queen and Santa Claus! There will be bonfires blazing for toasting marshmallows, candlelight tours of the plantation grounds and many more exquisite activities. There will even be a letter writing station for the little ones to send their Christmas wishes to the North Pole.
Where: Popular Grove Plantation, 10200 US-17, Hampstead, NC
When: December 13th – December 15th, festival starts on Friday 5-8pm, Saturday 10am-8 pm, Sunday 10am-4pm
Price: $7.00 a person for Manor Tour
Brunswick Forest implores you to add a little seasonal entertainment to your schedule, as it offers a great chance to experience the cultural of greater Wilmington and the surrounding areas! Be sure to see at least one of these events before the year is out!
For more information on how living at Brunswick Forest can benefit you, call us at: 855.983.9579