Your Harbor for Fine Living is Here: The Boothbay Harbour at Brunswick Forest
June 3, 2020
ISWebmaster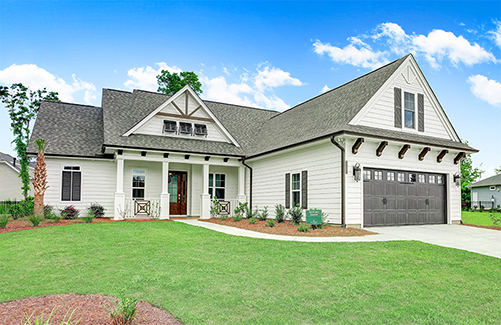 A warm breeze, the smell of salt in the air and surrounded by a natural coastal environment that invokes a calming vibe… these are the kind of emotions Kent Homes wanted to convey into June's featured model home. The Boothbay Harbour is a beautiful addition in the already diverse neighborhoods throughout Brunswick Forest! So, weigh anchor and set sail for the home of your dreams. Peek inside this lovely floor plan see to what the buzz is about!
The Boothbay Harbour is part of Kent Homes' Harbour series of homes, known for their fair price, value, being well-equipped and stylish. Everyone wants to have a home that exudes feelings of comfort, and the Boothbay Harbour does just that. The minute you see this home for yourself, you will understand why it is considered a mainstay for Kent Homes' floor plans. Here are some quick details regarding the Boothbay Harbour:
A total of 2,229 square-feet – including the options of a bonus room and study
Four Bedrooms
Three Bathrooms
Available to build on your homesite
The Boothbay Harbour model checks all the boxes by hosting a wide-open floor plan with a coastal flare. Wooden floors adorn most of the home, giving a real crafted feel. The kitchen is large and spacious with a granite island countertop as a focal point. The kitchen is one that any home cook would be proud to have, with a stove top, Stainless-steel appliances, by Samsung, and white subway tile backsplash. There is even a very modern USB charging station, perfect for your smartphone, tablet or laptop.
The living area is comfy with a hearth in the center of the room, and a trey ceiling above. Large open doorways lead to several expansive rooms, such as the master suite retreat with a spa-like shower that would make anyone feel at home. There is a large walk-in closet for easy access and organization. So, getting ready for the day ahead is simple. With the option of having a second-floor bonus room, you will not feel like your storage space is lacking. Living in the Boothbay Harbour. And, if your desire is to spend time outdoors enjoying the Southern summer sun, the Boothbay Harbour has the perfect spot for outdoor living. There is a screened in loggia that makes every day feel like it has that country-club level of exclusivity. The exterior of the home is stylistically designed to be low-maintenance with its fiber-cement siding and vinyl windows. Overall, the Boothbay Harbour is a floor plan that you would have great pride in owning.
If comfort is your aim, the Boothbay Harbour by Kent Home should be a home that is on your list. To learn more about this floor plan, contact the helpful Brunswick Forest real estate team at: 855.983.9579. You can even watch a virtual tour inside this home (recently under contract), by watching the Boothbay Harbour video on Brunswick Forest's Facebook page here. Another quality product from one of Brunswick Forest's building partners.