Winterfest 2019
December 4, 2019
ISWebmaster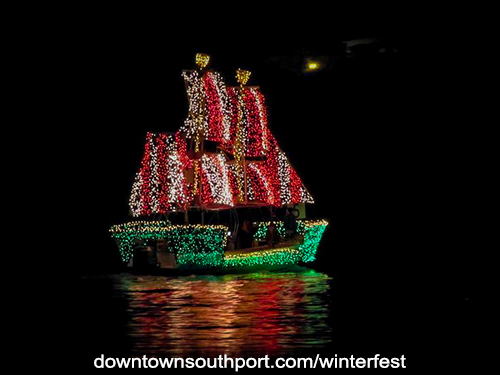 Not far from the master-planned community here at Brunswick Forest, lies the town of Southport. Regarded as a quiet coastal getaway for decades, Southport has a very appealing, village-like charm to it. It's the perfect place to spend a day, enjoy drinks, fresh seafood and take advantage of its proximity to other areas, like Bald Head Island. In addition to the humble coastal atmosphere, Southport is equally captivating during the holiday season!
It's December down on the shores of the Cape Fear River, and there's plenty of seasonal fun to be had. Southport is known for its Winterfest celebration held throughout its downtown area. Enjoy everything that the holidays have to offer, as Southport captivates you with a host of fun activities. Guests of all ages can enjoy live theatre presentations, a holiday cookie contest, supper with Santa's elves, a costumed history tour and much more. Simply put, the Southport Winterfest is yuletide cheer down on the Cape Fear, and we recommend that you don't miss a beat! This year's Winterfest celebration will be running from December 7th – 14th. Here are some of the other listed events taking place during Winterfest that you can attend.
Saturday December 7th
Would you like one lump or two? This lovely tea party will warm your heart and soul with the spirit of the holidays. Winterfest Tea will be held at the Southport Community Building, 223 E Bay St. Starts at 1pm, and costs $40.
Sunday, December 8th
There's a party in the park, and your four-legged friends are invited! The Pet Holiday Party will be held in Keziah Park, 113 W. Moore St. Santa himself will be making a jolly appearance, where guests will be able to have their pictures taken.
Friday, December 13th
Kids and adults alike will gaze in awe at this fantastic parade featuring the engines of the Southport Fire Department. The Light Up the Night Christmas Fire Engine Parade will be taking place at Waterfront Park, down Howe Street and back to the Southport Fire Station at 5:30 p.m. Make sure to come by and see this dazzling display of public service.
Sunday December 14th is the final day of the festival and will be accordingly jam packed with tons of fun that you won't want to miss! Here are just a few of the events that will be running on this day:
Winter Craft Festival– Browse this quaint holiday market for some of the best examples of local craftsmanship. You can find this event taking place at Franklin Square Park, 105 E Moore St. from 9:00 a.m. – 4:00 p.m.
Book Sale– A good book makes a perfect companion during the brisk days of winter, so why not stop by this event and find yourself a copy of your new favorite piece of literature. Taking place on 727 N Howe St. from 9:00 a.m. – 12:00 p.m.
Christmas Tour of Homes– Historic downtown Southport is just as lovely as the homes in downtown Wilmington. Even better is getting to see these standing pieces of history, all decked out for the holidays! Being held from 1:00 – 6:00 p.m., $15 in advance, $20 day of tour
Southport Christmas Flotilla– End the night with a light show spectacular! You've never seen boats so festive as you will here. To spectate the flotilla from the waterfront, head to the Yacht Basin and Kingsley Park. Starts at 7:00 p.m.
With so many activities to explore, you should make the Southport Winterfest celebration an easy stop of your Christmas hit list! For the full list of holiday events, you can find out more here at: https://townofsouthportnc.com/southport-winterfest/
To learn more about our master-planned community, call 855.983.9579.