WILMINGTON, NORTH CAROLINA BEST LOCAL PLACES FOR BIKING
March 22, 2016
Brunswick Forest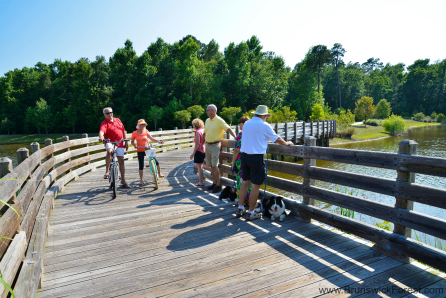 The Wilmington area is well-known for its active population who enjoy taking part in a number of outdoor sports like bicycling. The area's mild climate and relatively level landscape make it ideal for both casual and serious bike enthusiasts. Make sure to check out these local biking spots this spring!
BRUNSWICK FOREST
Brunswick Forest has more than 100 miles of walking, biking and nature trails for residents and their guests to use. Wide, paved pathways that wind throughout the community's parks, natural areas and neighborhoods are perfect for biking.
BRUNSWICK NATURE PARK
If you are looking for some off-road biking, head a few miles southeast from Brunswick Forest to the nearby Brunswick Nature Park. The park has more than six miles of mountain-biking trails, featuring two rock gardens, two wood structures several wood jumps and some clay table tops.
BLUE CLAY BIKE PARK
Blue Clay Bike Park features seven miles of single track trail for off-road biking with elevated trails over wetland areas and more challenging trails with changing elevations. There are sections for both intermediate and beginning mountain bikers in this one-of-a-kind area park.
RIVER TO THE SEA BIKEWAY
The 11-mile River to the Sea Bikeway is an on and off-road route that follows the old Historic Beach Car Line—a trolley route that used to carry tourists from downtown Wilmington to Wrightsville Beach. The pathway connects with the Gary Shell Cross-City Trail, another of Wilmington's major walking and biking pathways.
GARY SHELL CROSS-CITY TRAIL
The Gary Shell Cross-City Trail is a 20-mile path intended for use by both pedestrians and bicyclists. The path is primarily off-road and connects many different destinations in the city including parks and commercial areas. The Trail traverses New Hanover County and, when fully complete, will run from the James E.L. Wade Park to the Intracoastal Waterway.
888.371.2434
www.BrunswickForest.com