WILMINGTON, NC DINING- SEAFOOD MAKES THE LIST!
May 17, 2013
Brunswick Forest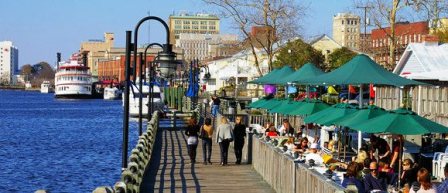 Wilmington, NC seafood set apart
The coastal community Wilmington, NC is known for its great eats, so it's no surprise that when Coastal Living named their 22 Favorite Seafood Dives that a spot in Downtown Wilmington made the list…the Shuckin' Shack Oyster Bar!
Shuckin' Shack Oyster Bar delivers succulent seafood dishes and a fun coastal dive experience which made it an easy pick for Coastal Living's Top 22 Favorite Seafood Dives. Shuckin' Shack has two distinct locations for their unique seafood fare in Wilmington, NC…one in Historic Downtown and the second in friendly Carolina Beach! Just in dive bar perfection, Shuckin' Shack does not disappoint since its menu is packed full of seafood favorites and some twists on traditional plates like Surf n' turf. If you are looking for the perfect seafood spot to dive into then look no further than Coastal Living's favorite, Shuckin' Shack!
Although Shuckin' Shack was Coastal Living's favorite, we have a few favorites of our own. Check out our list of can't miss spots!
Catch– Midtown Wilmington, NC
Fish House– Wrightsville Beach, NC
Dockside– Wrightsville Beach, NC
Blue Water– Wrightsville Beach, NC
Dock Street Oyster Bar– Downtown Wilmington, NC
Elijah's– Downtown, Wilmington, NC