Why List with Brunswick Forest? We Give Your Home a Virtual Advantage
March 10, 2021
ISWebmaster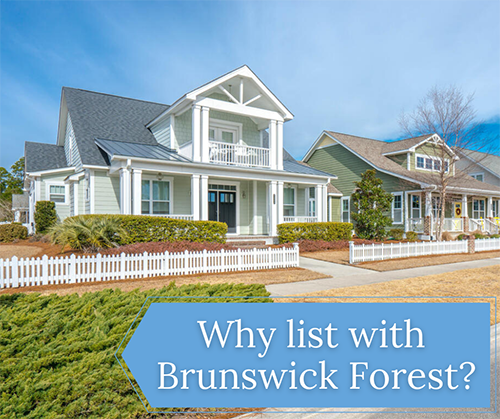 The process of selling your home can be stressful, especially when you are looking forward to enjoying your new home! To make sure your home sells quickly, and for your desired price, you want it to be seen by as many prospective buyers as possible. Brunswick Forest Realty knows this and makes sure your home is marketed correctly and to the right audience to get your desired outcome. With our database of over 50 thousand prospects and our proven local, regional, and national marketing strategies, we are well equipped to get your home sold.
This past year, more than ever, people are doing more of their home searches online. It is important your home is featured on the correct channels and gives a great first virtual impression. To make your home stand out, the first step Brunswick Forest Realty takes when listing your home is scheduling a professional photo shoot. In addition to interior and exterior photos, we schedule drone photos, have a floor plan created, and generate a 3-D virtual tour known as a Matterport. This gives potential buyers an immersive experience of your house and lets them take a tour to see if this home may be right for them!
Once photos are taken, your listing is posted on multiple digital outlets to get seen by different real estate agents and buyers. In addition to listing your home on the MLS which feeds to websites such as Zillow, Realtor.com, and Trulia, we post it on our two websites! The Brunswick Forest website has a section for available properties, where future residents can search through our available inventory and find the home that may be right for them! We also have a new tool: Live-Coastal.com. This brand-new website has available homes listed and information for people to learn about the local area and various master-planned communities. This gives your home additional exposure and gets attention from a different audience.
With email being such a big part of everyone's day-to-day routine, we have dedicated email campaigns that go out to spotlight your home! An announcement is sent out to a database of nearly 4,000 brokers when a new listing is added. The announcement includes photos, information about the home, and links to all the details. Monthly emails also go out to our residents about our available inventory, making sure they know what is available in Brunswick Forest so they can share with their family and friends.
Another way we market your home is on our social media channels. Brunswick Forest Realty has multiple Facebook pages (including one for Brokers!), as well as an Instagram, Twitter, and LinkedIn pages. We post our listings on these channels with pictures and information, share virtual tours, and even write blogs to encourage people to come and tour!
In 2020, Brunswick Forest sold 53 resale listings totaling almost $20 million. With the way our lives have changed over the past year, we have adapted to utilize our virtual resources to digitally showcase your home, and to best serve you. In addition to our digital marketing, we feature your home on our digital billboard right outside the entrance to the neighborhood, offer Coastal Discovery Packages for prospective buyers 365 days a year, and host six Coastal Homes Showcase Weekends a year. Have questions about the listing process, or want to learn more about the current real estate market? We are here to help! Give us a call to learn more at 833-497-1001.