When the Sun Goes Down, The Music Heats Up! Downtown Sundown Concert Series
May 20, 2019
ISWebmaster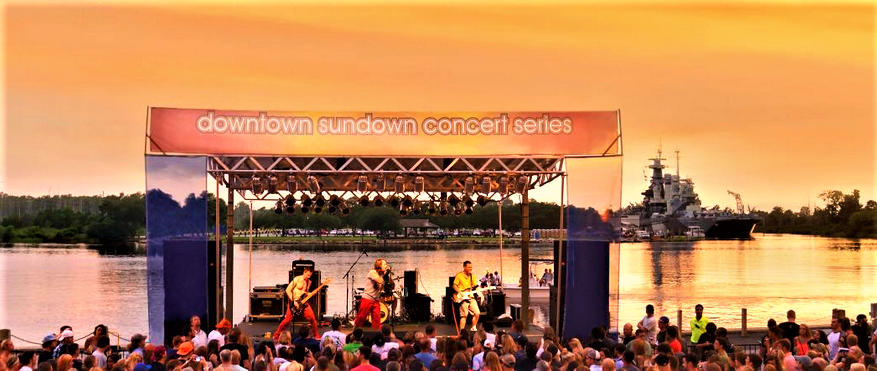 Downtown Wilmington, is considered one of the diamonds of the Southeast. Even during colonial times, the area's port was considered a vital area of commerce. Aside from the amazing dining and shopping experiences that Wilmington offers, there's also plenty of entertainment. Residents of Brunswick Forest can enjoy some of the best entertainment around, adding even more excitement to their already active lifestyles.
Music is a big part of the downtown scene. From local street musicians to full on concerts, there's plenty of live music to listen to. As the weather heats up for the summer season, so does one of Wilmington's greatest outdoor music traditions. Downtown Sundown is a Friday night summer concert series that runs from May 24th through August 30th, and involves multiple bands playing from 6:30pm to 10pm. Now entering its 14th season, this concert series strives once again to entertain you with a host of both local performers and touring bands. One of the best things about Downtown Sundown is that it's free to enjoy, so there's no stress in worrying about tickets or if you should bring friends and family. Downtown Sundown is easily accessible and can be enjoyed by anyone!
Downtown Sundown attracted over 26,000 people in 2018, so 2019 is sure to have no shortage of music enthusiasts coming to watch these bands play. Concerts would normally take place over on Riverfront Park at 5 North Water Street but will instead be held at the 2nd Street Parking Lot for 2019. Downtown Sundown places its focus mostly on tribute bands that cover the music of other popular music groups, but do so in their own unique way. For those who are wishing to add a little zing to their concert experience, alcoholic beverages will be available to purchase for folks 21 years and older. You can access alcohol by way of a $1 wristband. Proceeds from each purchase will go towards supporting local community organizations that benefit our area! Here's a sneak peek at some of the tribute bands that will be playing in the next few weeks:
Playing on May 24th
Playing at 6:30pm
Genre is Classic Rock.
These folks are a Rolling Stones tribute band that will have you rocking to all your favorite classic tunes. Charity wristbands for this concert will go towards supporting the Plastic Ocean Project and helping to keep our waters clear.
Playing on May 31st
Playing at 6:30pm
Opening act is The Fustics
Genre is Classic Rock
This Beatles tribute band will have you grooving down a long and winding road, featuring all the Beatles tunes you know and love. Gear up for what will be a night to remember. Charity wristbands for this concert will go towards supporting Pender High School Football.
Playing on June 7th
Playing at 6:30pm
Opening Act is The Folkstone Stringband
Genre is Classic Southern Rock
Jam out to the classic rock of the South with this Lynard Skynard tribute band. This evening's performance promises to be one that will have you up on your feet dancing around. Charity wristbands bought at this concert will go towards supporting The Cape Fear River Watch and supporting the trade artery that has nourished the Wilmington area for centuries.
Music is a language all its own and it's a great inside perspective into your local scene. Living your best life possible and enjoying the summer season to its fullest, now that sounds like a great way to spend your summer! Being only a short drive away from Downtown Wilmington, Brunswick Forest has the prime location to give its residents easy access to the best local events in Southeastern North Carolina. For the full list of bands playing this summer, check out the link below: https://www.wilmingtondowntown.com/events/downtownsundown/schedule-3