What's Trending?! A look at the Home Design Trends of 2017
December 19, 2017
Beth Burgee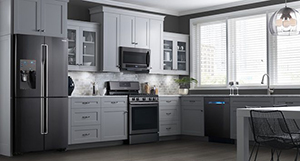 Brunswick Forest has its finger on the pulse when it comes to home design trends.  We've pulled together a collection of our 10 Favorite Design Trends of 2017.  Check 'em out:
#10 – Matte Appliances – A design trend many of us never even saw coming, but what a great alternative they are to stainless appliances.  They set your kitchen apart giving it a high-end look while being more resistant to fingerprints and smudges.  Plus they offer a warmer, earthy look compared to stainless.
#9 – Marble (of Faux Marble) – And what's not to LOVE!  Traditionally, it looks great in a kitchen or bathroom — completing the rooms with a fresh, clean look, but marble is popping up everywhere.  You'll find it casing candles and dressing your beds with prints on pillows and throws.
#8 – Wallpaper – Wallpaper is making a BIG splash!  Folks are using it to make a dramatic backdrop for their living rooms or dining rooms or to create a serene setting in their bedrooms and bathrooms.  Try it out in your kitchen even!
#7 – Farmhouse is still trending – And, thank goodness because many of us have committed in a BIG way to this trend.  Thanks, Chip and Jo!  Look for cozy quilts, weathered antiques and signs, and patinaed collections.  To make the style feel your own add some vintage pieces or family heirlooms into the mix.
#6 – Subway Tiles – We think these classic staples are here to stay!  We love their simplicity and what they add to a room.
#5 – Smart Home Features – With the way of the world, your home needs to have Smart Features to support all your Smart Devices.  Equip your home with SMART EVERYTHING — appliances, heating and cooling systems (like nest), security systems, lighting and charging stations.  These features will change your life!
#4 – Brass is BACK – And with a vengeance!  For those haters out there, get ready to embrace this trend — brass/gold is showing up in the kitchen, bathroom and just about any place you can find hardware in the home.
#3 – Winning Color Combos – Score big with this trend!  A great palate sets the tone of a home and you won't go wrong with any of these winning combos — Neutrals, Emerald Green & Gold, and Navy & Gold.
#2 – Prints & Patterns – Place them anywhere and everywhere that you can!  Layer mismatched patterns to create some fun and funk in your home.
#1 – Locally Sourced Anything – We are HUGE fans of this trend.  Especially when you're minutes from an eclectic town like Wilmington, NC where there are loads of local artists creating must-haves for your home.
www.brunswickforest.com
888.371.2434