What's New in Our Neck of The Woods? Brunswick Forest's New Digital Newsletter
August 17, 2020
ISWebmaster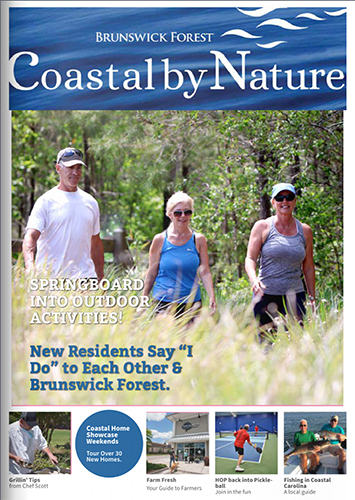 Heads up, Brunswick Forest is going paperless! With so much to do and see in Leland, Brunswick County and the greater Wilmington area, there is naturally a lot to keep an eye on. Brunswick Forest likes to keep their residents informed, and there is no better way to keep your finger on the pulse of what is happening than the Brunswick Forest newsletter! Brunswick Forest now has a new all-digital newsletter to share with you! So, get ready to turn the page on something special.
From summertime grilling tips with Chef Scott Euvrard to learning about fishing in your local area, you can be sure to find it in Brunswick Forest's Coastal By Nature® Newsletter. The format is similar in nature to Brunswick Forest's Community Album and Summer Showcase of Homes flipbooks! All it takes is a click and you will quickly know everything you need to about what has been going on in and around Brunswick Forest.
The Coastal By Nature® newsletter will cover the majority of the month's hot topics. Subjects from Brunswick Forest's blogging page will be shared in a convenient format in the newsletter. This way if you have not gotten the chance to keep up with the on goings of the community throughout the month, the newsletter offers you another opportunity to do so. The newsletter also keeps you informed of any events going on within Brunswick Forest, such as the Coastal Showcase Weekends that have been running monthly all summer long. Home touring features, top outdoor activities, special events, and local guides are all covered in one easy to access area.
With plenty of colorful pictures to go along with each story, you will never miss on out what the scoop is around town. The Coastal By Nature® newsletter will be distributed regularly amongst residents subscribed to Brunswick Forest, so be sure to do so if you have not already! Subscribing is easy! Find the "Join Our Newsletter" submission near the bottom of BrunswickForest.com. For further questions, contact the team at: 855.983.9579