WHAT'S NEW AT THE LELAND CULTURAL ARTS CENTER
June 6, 2017
Beth Burgee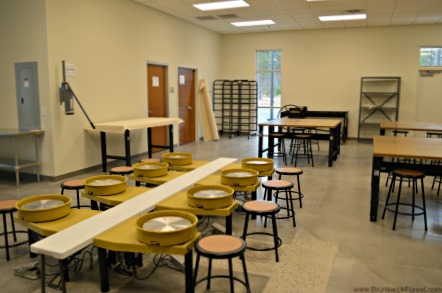 The Leland Cultural Arts Center is gearing up for summer by offering a new lineup of classes and activities! Whether you're six, sixteen or sixty-six, there is something at the arts center for you to dive into!
Camp Brunswick kicks-off in July for six-year-olds to thirteen-year-olds and features a host of activities including arts and crafts, games, outdoor activities, field trips, drama classes and more…sign-up here today.
Try out a new style of dance, boot camp, yoga or kayaking, as a part of the Mind and Body education programming offered through the Leland Cultural Arts Center.  Keeping the community's minds and bodies challenged, sharp and in-motion is a major focus of the Arts Center.
Try your hand at sculpting, painting, throwing pottery, or even creating wearable forms of art such as necklaces and bracelets at the Arts Center.  If you enjoy perusing the arts, the Gallery Calendar is full of exhibitions and displays.  There is even a gift shop where local artisans display their works!
The Arts Center even has a great musical lineup this summer featuring Neil Diamond: A Musical Biography Tribute, Johnny White and The Elite Band, Sidecar Social Club, Sonic Spectrum Band, and L Shape Lot!!
Tune into the Leland Cultural Arts Center Calendar of Events for additional summer programming. We are so fortunate to have a facility like this that benefits our community. A BIG thank you from the residents of Brunswick Forest!
888.371.2434