What's going on in the Port City this Weekend? July 6-8
July 6, 2018
Beth Burgee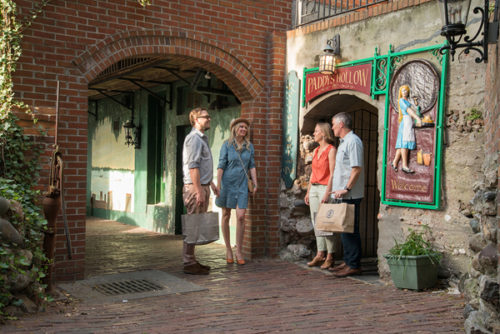 Friday – July 6th
Downtown Sundown Concert Series: Riverfront Park // 6:30-10:00pm
The 13th Annual Downtown Sundown Concert Series returns to Riverfront park in downtown Wilmington every Friday through August 31st. This free concert series is one of the area's most popular summer events and a portion of the proceeds from each week benefits a different local charity. This week's performance features Wrong Way, a Sublime tribute band.
It's free admission, however if you would like to purchase beer or wine, you must buy a $1 wristband upon entry. Food will also be available for purchase.
Airlie Gardens Summer Concert Series: Airlie Gardens // 6:00-8:00pm
This popular concert series runs throughout the summer and features local and regional bands every 1st and 3rd Friday through September 21st. This week's performance is the Wilmington Big Band. This 17-piece orchestra combines a mixture of timeless standards and hip pop tunes that will keep you swinging all night long.
Admission is $10 for adults, $3 for children (4-12) and free for children under 4. Seating is open-lawn and outdoor lawn chairs are permitted. Food & beverage options include Front Street Brewery, Noni Baca Winery and Planet Smoothie.
The Joyce Irish Pub & Grill: The Villages at Brunswick Forest // 6:00-9:00pm
The Joyce will feature live music every Friday and Saturday through the month of July and early August (with future dates to be determined.) A popular spot among Brunswick Forest residents, The Joyce is conveniently located at the front of the community in The Villages. Friday evening will feature a performance by Wes Hunter, who is a local to the area and plays everything from laid back solo acoustic to the soulful sounds of Heart and Soul.
Saturday – July 7th
Riverfront Farmers' Market: Riverfront Park // 8:00am-1:00pm
One of the most popular farmer's markets in our area, the Riverfront Farmers' Market is an open-air market in historic downtown Wilmington and features local farmers, produce, arts and crafts, music and more. Support local and shop the freshest fruits, vegetables, herbs, eggs and cheeses, plants, seafood, and more!
Vendors and items change weekly and feature a large variety of produce and products throughout the season.
Port City Reggae Music & Art Festival: Greenfield Lake Ampitheater // 1:30-3:00pm
The Whalen Team and Reggae Live Nation present the Port City Reggae Music and Arts Festival this Saturday at Greenfield Lake Ampitheater. The festival will feature performances by Etana, the first female to top the reggae charts; Danglin, former lead vocalist for the Wailers; Edge Michael, Peter Tosh's nephew; and local favorites Signal Fire.
Tickets are currently available for $30 each. Children under 9 admitted free.
Homegrown Music Fest: Waterline Brewing Company // 4:00-10:00pm
Homegrown Music Fest at Waterline Brewing is a free event that will feature live music inside and out with short performances by Sibilant Sounds, VOL, Good Bye Shivers and Unity. The Paper Stars will headline the event. The festival will also feature dance and theater performances, comedy acts, artist booths, games, a petting zoo, Komorebi Fire Art demonstration and local food trucks.
The Joyce Irish Pub & Grill: The Villages at Brunswick Forest // 6:00-9:00pm
The Joyce's live music continues Saturday evening with performances by Dust Parade Trio, an original music group from coastal North Carolina. Featuring a unique style of blues/surf/jazz-improv, their sound is dynamic and infectious.
Sunday – July 8th
Historic Downtown Artisan Market: Riverfront Park // 10:00am-3:00pm
This weekly market runs through October 28th and features more than 30 rotating artists including painters, illustrators, woodworkers, metal workers and more.
Live Music – Into the Fog: Marina Grill // 1:00-4:00pm
Marina Grill in downtown Wilmington presents live music in the Boat Yard featuring high-energy bluegrass band, Into the Fog. The Marina Grill was inspired by the lively Riverfront Marina and Wilmington community. Stop in and enjoy locally-sourced food, NC beers, wine, kombucha, nitro coffee and a seasonal cocktail list.
www.BrunswickForest.com
866-831-8289