WHAT'S FOR DINNER TONIGHT?!
July 18, 2013
Brunswick Forest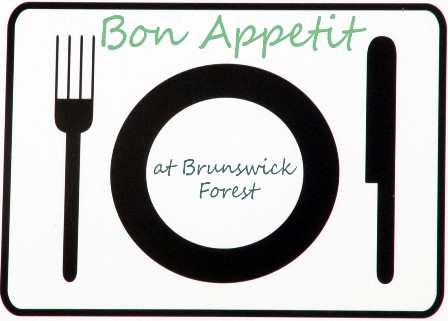 Whether you are in the mood for a savory slice of pizza, an all-American style hamburger, or just a home cooked meal, living in the Brunswick Forest community makes dinner easy!
FINE FOOD & SPIRITS
Take pleasure in a fine dining experience right at your fingertips at The Forest Fine Food & Spirits restaurant at the Cape Fear National clubhouse. The Forest makes dinner easy and enjoyable as they serve up your all-American favorites! Also, don't miss their themed dining nights each month, like steak night, bar trivia, and pub night!
ITALIAN DELIGHT
Indulge in a night out and treat yourself to Pizzetta's Pizzeria's delicious Italian cuisine. Located in The Villages at Brunswick Forest, this authentic Italian restaurant is family owned and operated and offers tons of options from NY style pizza and pasta to grinders and desserts!
HOME SWEET HOME
Want a nice home-cooked meal? As a Brunswick Forest resident, that's easy with Lowes Foods grocery store located just at the community's entrance. Grab everything you need at Lowes Foods to make your family's favorite meal. Then, head to the comfort of your own home to enjoy!
Deciding what's for dinner has never been easier especially as a Brunswick Forest resident…the options are endless!
888.371.2434
www.BrunswickForest.com