Welcome to Leland!
July 20, 2018
Beth Burgee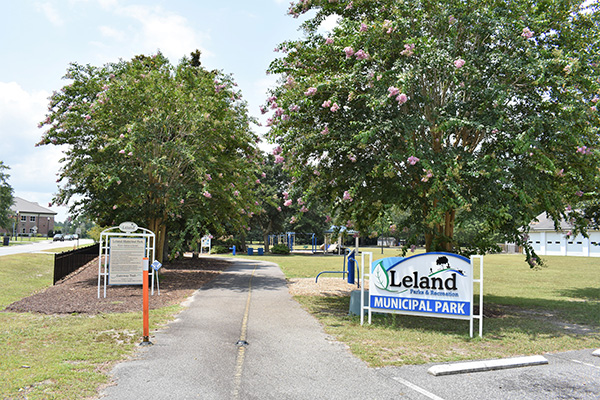 Located in northern Brunswick County, Leland is one of the fastest growing areas in the state. Home to Brunswick Forest, this small town consists of over 20 square miles and is a short 7 miles from the Port of Wilmington. The boom in growth surrounding the Leland area is in part due to low taxes, direct access to interstate transportation, and a strong and growing workforce, offering residents a desirable and convenient quality of life.
"A stone's throw from Wilmington and a gentle drive from the beaches of North Carolina's Brunswick Islands lies the town of Leland. Full of newly found energy and small-town charm, Leland blends together the best of modern expectations with a respect and appreciation of its natural surroundings. Leland is a great place to relocate and retire. You'll appreciate all it has to offer, from business to leisure, it's a great place to live," according to the Town of Leland's website.
With a prime location and affordable living, the town of Leland is also growing with events, activities and things to keep you busy while you're here. Choose between golfing at the award-winning Cape Fear National, located in Brunswick Forest, or spend the day visiting the Leland Cultural Arts Center for one of their featured programs, classes or community events.
What's Going on in Leland?
Providing the local community with a vibrant hub for the arts, the Leland Cultural Arts Center offers a wide variety of classes, workshops and events year-round. The 18,000 square-foot facility includes a gallery, pottery studio, multipurpose studio, painting/drawing studio, dancing studio, classroom, and a performing arts space capable of hosting community theater productions, musical performances, and events.
Leland Municipal Park and Recreation Building
Originating in 2004 on Founders' Day, this eight-acre park is the Town's first park and includes a playground, gazebo, stage, picnic tables, benches, open green spaces and a 0.6 mile paved multi-use path.
Adjacent to the park lies a 2,100 sqaure-foot facility that is heated, covered, lighted and offers guests a venue for special events and gatherings. The recreation building is available to rent.
Set to open later this month in The Villages at Brunswick Forest, the House of Pickleball is a World Class, privately owned facility that will be open to the public for Pickleball. The focus is on social play, but the facility will offer competitive opportunities as well. The climate controlled 6-court area has rubberized cushioning and is currently accepting membership applications, for those interested. HOP also offers drop-in rates for the general public.
The Westgate Park consists of 150 acres of wetlands and uplands on the south side of Highway 17. This 3-acre park offers a 0.3 mile asphalt trail that begins at the park's entrance and traces back to a raised wooden boardwalk and outdoor classroom overlooking the wetlands. The nature themed playground sits at the entrance of the park and includes facts sheets about wildlife and plants that are local to the area, picnic areas, an event space, utilities and associated amenities.
Cypress Cove Park at Surgeon Creek Park
Cypress Cove park is made up of 27 acres of wetlands donated to the town in 2005 by Kirby Sullivan, and 1.2 acres of uplands acquired in 2007 from the Division of Coastal Management. The park is the first water access site for Leland and is designated for people to launch kayaks, canoes, and small Jon boats.
UPCOMING EVENTS
Founders's Day Festival – September 8, 2018 – Leland Municipal Park
Each year on the second Saturday of September, the Town of Leland celebrates its birthday with a free, family-friendly party for the community. The event will feature entertainment, food trucks, a carnival, arts and crafts vendors, business vendors, fireworks and more!