WEEKEND GETAWAY IN CHARLESTON, SOUTH CAROLINA
April 13, 2015
Brunswick Forest
Brunswick Forest's prime location, just minutes from area beaches, is also just a short drive away from many great Southern cities. Take a drive down the coast and spend the weekend in Charleston, South Carolina where you will find a wealth of shopping, dining and sightseeing.
GETTING THERE IS HALF THE FUN
Charleston is located about a 3-hour drive south of Brunswick Forest, which makes it the perfect distance for a weekend getaway. Enjoy this scenic drive down the coast which passes through Myrtle Beach, Pawley's Island, Georgetown and the Francis Marion National Forest.
EXPLORE HISTORIC ARCHITECTURE
Charleston is the oldest city in South Carolina and its history is reflected in the architecture. Take in some of the South's most beautiful buildings during an architectural tour of the city, or simply admire the views of the historic homes as you stroll Charleston's charming city streets.
THE BATTERY
Take a carriage ride tour of the Battery during your weekend getaway in Charleston. The Battery is one of Charleston's most-recognized and most-visited landmarks. This seawall and walkway borders the Charleston harbor and is named after the Civil War era artillery battery that existed at the site. After strolling the Battery, walk beneath the trees at scenic White Point Garden.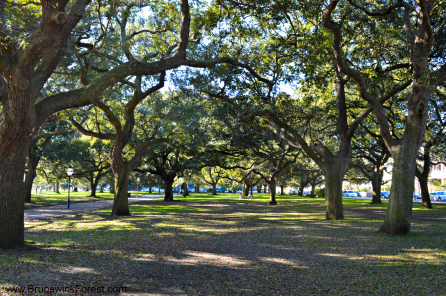 SHOPPING, DINING AND MORE
Charleston is well-known for its abundant shopping and dining options. Stroll down King Street which features everything from casual shops to upscale designer boutiques. Or head to the city's outdoor market for local and regional goods. When it comes to restaurants, Charleston is a gourmet food-lovers dream location with everything from fine dining to relaxed pubs and eateries and everything in between!
888.371.2434
www.BrunswickForest.com