Warms the Heart and Soul: Winter Soup Recipes
January 23, 2021
ISWebmaster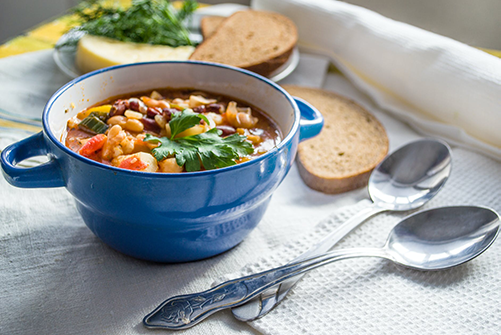 They say that nothing warms your tum like a bowl of soup during the colder months of the year, and we are inclined to agree! Soup has traditionally been used as an easy way to provide nourishment throughout the ages. It is easy, filling, and most importantly a delicious way to make use of leftovers. Soups come in a variety of types and can be dependent on the region with varying ingredients. Regardless of what kind of soup is your favorite, Brunswick Forest has a few that will hit the spot!
What is better than coming home after a long day to a hot bowl of hearty soup? The good thing about different soups is that they are not only relatively simple to create, but you can also make a lot of extra portions with them. This means that you do not have to think about lunch or dinner for the other parts of the week. Here are two easy-to-follow recipes that are sure to make a big hit at your community table:
Hearty and delicious, this soup combines some rustic flavors, fresh veggies, and lean ground beef for its taste. It can also be done without noodles as well. This is also a good soup for anyone looking for something healthy. You will need:
One pound of lean ground beef or beef tips.
One medium onion, chopped.
Two cans of Italian Tomatoes.
One can of tomato soup with basil, undiluted.
Four cups of water.
Two garlic cloves, minced.
Two teaspoons dried basil.
Two teaspoons of dried oregano.
One teaspoon of salt.
A teaspoon of pepper.
One 16 oz can of kidney beans, drained.
One 16 oz can of Italian green beans, drained.
One carrot, chopped.
One zucchini, chopped.
Eight ounces of rotini noodles, cooked.
Grated Parmesan cheese
First, you want to cook the lean beef and onion together in a Dutch oven (or any oven) over medium heat. Cook it and keep stirring it together until the beef crumbles and is no longer pink in color. Drain any excess grease and then return the mixture to a pan. All you must do now is stir in the tomatoes and the next seven ingredients. You can even add a little chili powder for that extra zing (if you want.) Bring the mixture to a boil, and then reduce the heat and let everything simmer for about 30 minutes. Next stir in the kidney beans and the next three ingredients. Simmer this new mixture for 15 minutes and stir in the pasta for the finishing touch. Sprinkle each bowl with the grated parmesan cheese and you have one delicious soup!
Not quite your traditional soup, but this recipe is too good to leave out! Considered by many to be a cool-weather essential, this beef stew recipe is filling and easy to prepare. It is sure to leave you feeling full, warm, and hungry for more! Here is what you will need:
One tablespoon of vegetable oil.
Two pounds of beef chuck cubed into 1'' cubes.
One tablespoon of extra-virgin olive oil.
One onion, chopped.
Two carrots peeled and chopped into round pieces.
Two stalks of celery, chopped.
Kosher salt.
Fresh ground black pepper.
Three cloves of garlic, minced.
¼ cup of tomato paste.
Six cups of low-sodium beef broth.
One tablespoon of Worcestershire Sauce.
One tablespoon of fresh or dried thyme leaves.
Two bay leaves.
One pound of baby potatoes halved.
One cup of frozen peas.
¼ cup of freshly chopped parsley for garnish.
First, get yourself a large Dutch oven or a heavy-bottomed pot. Begin adding the vegetable oil, warming it up over medium heat. Now, add the beef and cook it until seared properly on all sides (Do this for about 10 minutes, and do not be afraid to do them in batches if need be). Transfer the seared beef to a plate. Now in that same pot, cook the onions, carrots, and celery until soft for about five minutes. Season this mixture with salt and pepper. Add garlic and tomato paste next and cook the garlic until it smells fragrant. Make sure that the tomato paste becomes a darker color before proceeding to the next steps.
Now, add the beef back into the oven then add broth, wine, Worchester sauce, thyme, and bay leaves. Bring everything to a nice boil, and then quickly turn the heat down to a simmer. Season with salt and pepper, then let it simmer again for 30 minutes until the beef is tender. Add potatoes and simmer, covered, until the potatoes are also nice and tender. We know the smell will probably be hard to resist at this point but stay patient! You are almost done! Remove the bay leaves and stir in the peas, cooking them until warmed through for two minutes. Garnish with the parsley before serving, and you will be in stew heaven!
These two recipes are delicious and will make for a tasty treat throughout the winter season! Perfect to complement your laid-back lifestyle at Brunswick Forest and good enough to share with the whole neighborhood.